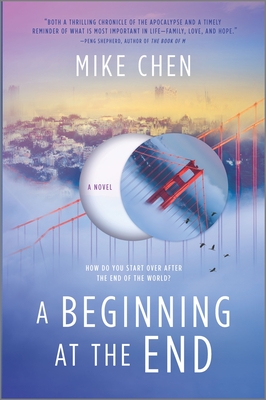 A Beginning at the End
A Novel of Hope and Recovery After Pandemic
Hardcover

* Individual store prices may vary.
Other Editions of This Title:
Paperback (11/24/2020)
Description
"The best kind of dystopian novel: one rooted deeply in the hearts of his characters and emphasizing hope and connection over fear.... Compelling, realistic, and impossible to put down.
"--Booklist
Four survivors come together as the country rebuilds in the aftermath of a devastating pandemic. With stunning foresight, this character-driven postapocalyptic suspense is an intimate, hopeful look at how people can move forward by creating something better.
How do you start over after the end of the world?
Six years after a virus wiped out most of the planet's population, former pop star Moira is living under a new identity to escape her past--until her domineering father launches a sweeping public search to track her down. Desperate for a fresh start herself, jaded event planner Krista navigates the world for those still too traumatized to go outside, but she never reaches out on her own behalf. Rob has tried to protect his daughter, Sunny, by keeping a heartbreaking secret, but when strict government rules threaten to separate parent and child, Rob needs to prove himself worthy in the city's eyes by connecting with people again. Krista, Moira, Rob and Sunny meet by circumstance and their lives begin to twine together. When reports of another outbreak throw the fragile society into panic, the friends are forced to finally face everything that came before--and everything they still stand to lose. Because sometimes having one person is enough to keep the world going.
"This postapocalyptic slice-of-life novel delivers big emotions by keeping the focus small... By foregrounding family, Chen manages to imbue his apocalypse with heart, hope, and humanity. Sci-fi fans will delight in this lovingly rendered tale."--Publisher's Weekly
Mira Books, 9780778309345, 400pp.
Publication Date: January 14, 2020