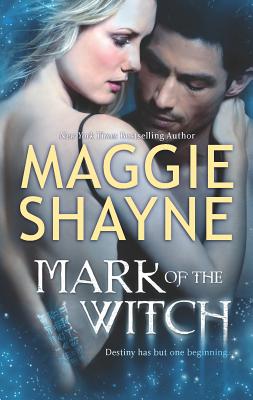 Mark of the Witch (Mass Market Paperbound)
Mira Books, 9780778313335, 394pp.
Publication Date: September 18, 2012
Description

She was born to save what he is sworn to destroy
A lapsed Wiccan, Indira Simon doesn't believe in magic anymore. But when strange dreams of being sacrificed to an ancient Babylonian god have her waking up with real rope burns on her wrists, she's forced to acknowledge that she may have been too hasty in her rejection of the unknown. Then she meets mysterious and handsome Father Thomas. Emerging from the secrecy of an obscure Gnostic sect, he arrives with stories of a demon, a trio of warrior witchesand Indira's sacred calling.
Yet there's something even Tomas doesn't know, an inescapable truth that will force him to choose between saving the life of the woman he's come to loveand saving the world.

About the Author
NY Times bestselling author Maggie Shayne has published more than fifty novels & is best known for her "Twilight" vampire series, "Wings in the Night," & her chilling romantic suspense. Wiccan High Priestess, legal clergy, tarot reader, advice columnist, former soap opera writer, & RITA Award winner, the author lives in rural Cortland County NY with her partner Lance, 2 mastiffs, a bulldog, cat, bearded dragon & reef aquarium."
Praise For Mark of the Witch…
"A tasty, tension-packed read."
--Publisher's Weekly on Thicker Than Water



"Shayne's haunting tale is intricately woven.... A moving mix of high suspense and romance, this haunting Halloween thriller will propel readers to bolt their doors at night!"
--Publisher's Weekly on The Gingerbread Man



"Shayne crafts a convincing world, tweaking vampire legends just enough to draw fresh blood."
-Publishers Weekly on Demon's Kiss



"Maggie Shayne demonstrates an absolutely superb touch, blending fantasy and romance into an outstanding reading experience."
--Romantic Times on Embrace the Twilight



"Maggie Shayne is better than chocolate. She satisfies every wicked craving."
--New York Times bestselling author Suzanne Forster



"Maggie Shayne delivers sheer delight, and fans new and old of her vampire series can rejoice."
--Romantic Times on Twilight Hunger



"Maggie Shayne delivers romance with sweeping intensity and bewitching passion."
--New York Times Bestselling author Jayne Ann Krentz
Advertisement