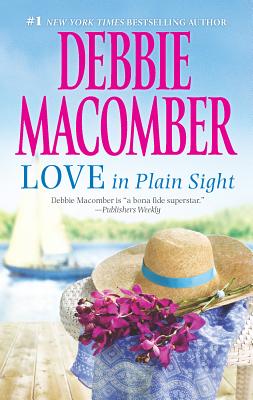 Love in Plain Sight: Love 'n' Marriage\Almost an Angel (Mass Market Paperbound)
Love 'n' Marriage\Almost an Angel
Mira Books, 9780778314134, 368pp.
Publication Date: January 29, 2013
Description

Sometimes love's right there in front of you
As Stephanie Coulter discovers, sometimes you find it in the most ordinary placesand what could be more ordinary than the office? Stephanie, who works as an assistant at Lockwood Industries in Minneapolis, is temporarily assigned to the bossJonas Lockwood himself. Jonas lives up (or down ) to his reputation as a tyrant, dictator and grouch. But Stephanie's colleagues, romance readers all, decide that he's really the classic lonely hero. What he needs, they say, is Love 'n' Marriage. And the woman they have in mind for him isStephanie.
Bethany Stone, on the other hand, is already in love with her boss, Joshua Norris, although their relationship is strictly business. But one day he asks for her helpoutside the office. Joshua's ten-year-old daughter, Angie, is coming to live with him and he has no idea how to raise a precocious little girl. Angie might be Almost an Angel, but she quickly develops a matchmaking plan for her dadand Bethany

About the Author
Debbie Macomber, with more than 100 million copies of her books sold worldwide, is one of today's most popular authors. The #1 New York Times bestselling author is best known for her ability to create compelling characters and bring their stories to life in her books. Debbie is a regular resident on numerous bestseller lists, including the New York Times (70 times and counting), USA TODAY (currently 67 times) and Publishers Weekly (47 times). Visit her at www.DebbieMacomber.com.
Praise For Love in Plain Sight: Love 'n' Marriage\Almost an Angel…
"Well-developed emotions and appealing characters... Macomber is a skilled storyteller who turns [Montana] into an engaging, unabashedly sentimental love story." -Publishers Weekly



"Debbie Macomber is one of the most reliable, versatile romance authors around. Whether she's writing light-hearted romps or more serious relationship books, her novels are always engaging stories that accurately capture the foibles of real-life men and women with warmth and humor." -Milwaukee Journal Sentinel



"Debbie Macomber shows why she is one of the most powerful, highly regarded authors on the stage today." -Midwest Book Review



"Debbie Macomber's gift for understanding the souls of women-their relationships, their values, their lives-is at its peak." -BookPage on Between Friends



"Macomber has a gift for evoking the emotions that are at the heart of the genre's popularity."-Publishers Weekly



"A multifaceted tale of romance and deceit, the final installment of Macomber's Dakota trilogy oozes with country charm and a strong sense of community."-Publishers Weekly on Always Dakota



"Macomber...is no stranger to the New York Times bestseller list. She knows how to please her audience." -Oregon Statesman Journal



"Bestselling Macomber..sure has a way of pleasing readers." -Booklist



"Macomber's assured storytelling and affirming narrative are as welcoming as your favorite easy chair." -Publishers Weekly on Twenty Wishes
Advertisement