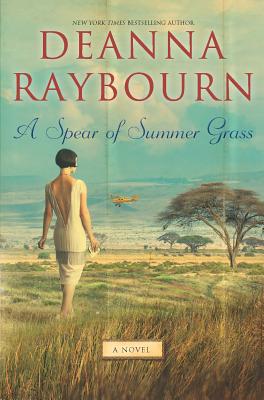 A Spear of Summer Grass
Paperback

* Individual store prices may vary.
Other Editions of This Title:
Hardcover, Large Print (8/1/2013)
Description
Paris, 1923 The daughter of a scandalous mother, Delilah Drummond is already notorious, even among Paris society. But her latest scandal is big enough to make even her oft-married mother blanch. Delilah is exiled to Kenya and her favorite stepfather's savanna manor house until gossip subsides. Fairlight is the crumbling, sun-bleached skeleton of a faded African dream, a world where dissolute expats are bolstered by gin and jazz records, cigarettes and safaris. As mistress of this wasted estate, Delilah falls into the decadent pleasures of society. Against the frivolity of her peers, Ryder White stands in sharp contrast. As foreign to Delilah as Africa, Ryder becomes her guide to the complex beauty of this unknown world. Giraffes, buffalo, lions and elephants roam the shores of Lake Wanyama amid swirls of red dust. Here, life is lush and teeming--yet fleeting and often cheap. Amidst the wonders--and dangers--of Africa, Delilah awakes to a land out of all proportion: extremes of heat, darkness, beauty and joy that cut to her very heart. Only when this sacred place is profaned by bloodshed does Delilah discover what is truly worth fighting for--and what she can no longer live without.
Praise For A Spear of Summer Grass…
"With a strong and unique voice, Deanna Raybourn creates unforgettable characters in a richly detailed world. This is storytelling at its most compelling."
-Nora Roberts, #1 New York Times bestselling author



"[A] perfectly executed debut...Deft historical detailing [and] sparkling first-person narration."
-Publishers Weekly starred review on Silent in the Grave



"A riveting drama that makes page turning obligatory. A very fine debut effort from Deanna Raybourn."
-Bookreporter.com on Silent in the Grave



"A sassy heroine and a masterful, secretive hero. Fans of romantic mystery could ask no more-except the promised sequel."
-Kirkus Reviews on Silent in the Grave



"This debut novel has one of the most clever endings I've seen."
-Karen Harper, New York Times bestselling author on Silent in the Grave



"Deceptively civilized and proper, Silent in the Grave has undercurrents of nefarious deeds, secrets and, my favorite, poisons. An excellent debut novel."
-Maria V. Snyder, author of Poison Study on Silent in the Grave



"There are some lovely twists in the plot and a most satisfactory surprise ending. I hope to read more from Deanna Raybourn in time to come."
-Valerie Anand, author of The Siren Queen, written under the name of Fiona Buckley, on Silent in the Grave



"Fans and new readers alike will welcome this sparkling sequel to Raybourn's debut Victorian mystery, Silent in the Grave...the complex mystery, a delightfully odd collection of characters and deft period details produce a rich and funny read."
-Publishers Weekly on Silent in the Sanctuary



"Raybourn skillfully balances humor and earnest, deadly drama, creating well-drawn characters and a rich setting."
-Publishers Weekly on Dark Road to Darjeeling



"Beyond the development of Julia's detailed world, her boisterous family and dashing husband, this book provides a clever mystery and unique perspective on the Victorian era through the eyes of an unconventional lady."
-Library Journal on The Dark Enquiry
Mira Books, 9780778314394, 370pp.
Publication Date: April 30, 2013
About the Author
New York Times bestselling author Deanna Raybourn graduated from the University of Texas at San Antonio with a double major in English and history and an emphasis on Shakespearean studies. She taught high school English for three years in San Antonio before leaving education to pursue a career as a novelist. Deanna makes her home in Virginia, where she lives with her husband and daughter and is hard at work on her next novel.
Delilah Drummond is a unique and not always likable heroine. How do the different characters in the book view her—as a friend or adversary? What was your reaction to her? How does Delilah change over the course of the book?
Ryder White is a larger-than-life character. What traits make him appealing?
How does the political climate of colonial Kenya influence the characters and their response to their environment? How does Dodo display attitudes typical of the colonial English? In contrast, the Farradays are representative of a particular type of scandalous settler notorious in Kenya between the 1920s and 1950s. How do you think each of these characters views Africa?
Gideon and his younger brother, Moses, both touch something within Delilah. What does this relationship seem to fulfill for each of them? Delilah makes a tremendous sacrifice for Gideon. Why? Was she right to do it?
Delilah is very comfortable with her sexuality and with the effect she has on men. How do sexual relationships drive the action of the book? How is Delilah's sexual relationship with Kit different from that with Ryder? How does Dodo's experience with sex change her plans?
Africa is as much a character in the book as any of the people. How does Africa itself play a role in the story?
Ryder makes tremendous sacrifices to keep Delilah in Africa. Was he right to do so?
What is Delilah and Ryder's potential for a happy ending?