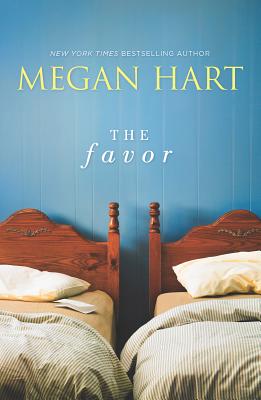 The Favor (Paperback)
Mira Books, 9780778314400, 376pp.
Publication Date: June 25, 2013
Description

With characteristic compassion and searing honesty, MEGAN HART weaves a shattering small-town story about what can turn brother against brother, and the kinds of secrets that cannot remain untold.
Janelle Decker has happy childhood memories of her grandma's house, and even lived there through high school. Now she's back with her twelve-year-old son to look after her ailing Nan, and hardly anything seems to have changed, not even the Tierney boys next door.
Gabriel Tierney, local bad boy. The twins, Michael and Andrew. After everything that happened between the four of them, Janelle is shocked that Gabe still lives in St. Mary's. And he isn't trying very hard to convince Janelle he's changed from the moody teenage boy she once knew. If anything, he seems bent on making sure she has no intentions of rekindling their past.
To this day, though there might've been a lot of speculation about her relationship with Gabe, nobody else knows she was there in the woods that daythe day a devastating accident tore the Tierney brothers apart and drove Janelle away. But there are things that even Janelle doesn't know, and as she and Gabe revisit their interrupted romance, she begins to uncover the truth denied to her when she ran away all those years ago.

About the Author
Megan Hart is the award-winning and multi-published author of more than thirty novels, novellas and short stories. Her work has been published in almost every genre, including contemporary women s fiction, historical romance, romantic suspense and erotica. Megan lives in the deep, dark woods of Pennsylvania with her husband and children, and is currently working on her next novel for MIRA Books. You can contact Megan through her website at www.MeganHart.com."
Praise For The Favor…
"Hart plunges into the mainstream fiction genre with this haunting, devastating, heart-wrenching tale.This story will stay with you long after you reach the last page." -Romantic Times



"Megan Hart is easily one of the most talented voices I've encountered." -The Romance Reader



Megan Hart is easily one of the most talented voices I've encountered. -The Romance Reader



"Deeper is absolutely, positively, the best book that I have read in ages! I cannot say enough about this book...I am not ashamed to admit that I cried real tears while reading this book. Beautiful, poignant, and bittersweet... Megan Hart never disappoints me, but with Deeper she went above and beyond."-Romance Reader at Heart Top Pick



"Unique and powerfully sensual, Hart's latest novel is also an intensely emotional reading experience. The author's skill with first-person storytelling continues to impress."-Romantic Times on Broken
Advertisement