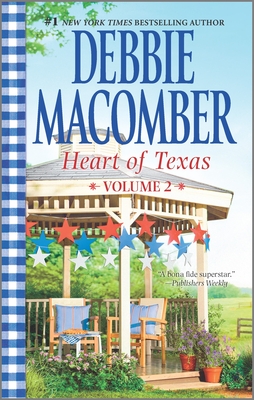 Heart of Texas, Volume 2 (Mass Market Paperbound)
Mira Books, 9780778314417, 410pp.
Publication Date: July 30, 2013
Description
Welcome to the town of Promise, deep in the heart of Texas
Promise, a ranching community in the Hill Country, is a place with a mysterious past and a secret or two hidden under its everyday exterior. It's also a place where family and friendship are the things that really matter.
CAROLINE'S CHILD
Who's the father of Caroline's child? Everyone in town wants to know, but no one's ever askedor ever will. The people of Promise are protective of Caroline Daniels and five-year-old Maggie. They care. Especially rancher Grady Weston, who's beginning to realize he more than cares.
DR. TEXAS
They call her Dr. Texas. She's Jane Dickinson, a newly graduated physician from California who's working at the Promise clinicbut just for a couple of years. They call him Mr. Grouch. Cal Patterson was left at the altar by his out-of-state fiancee, and he's not over it yet. Too bad Jane reminds him so much of the woman he's trying to forget
www.DebbieMacomber.com.
About the Author
Debbie Macomber, with more than 100 million copies of her books sold worldwide, is one of today's most popular authors. The #1 New York Times bestselling author is best known for her ability to create compelling characters and bring their stories to life in her books. Debbie is a regular resident on numerous bestseller lists, including the New York Times (70 times and counting), USA TODAY (currently 67 times) and Publishers Weekly (47 times). Visit her at www.DebbieMacomber.com.
Advertisement