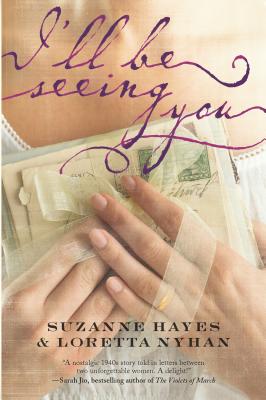 I'll Be Seeing You
Paperback

* Individual store prices may vary.
Other Editions of This Title:
MP3 CD (10/7/2015)
Paperback, Large Print (12/11/2013)
Compact Disc (10/7/2015)
Description
"I hope this letter gets to you quickly. We are always waiting, aren't we? Perhaps the greatest gift this war has given us is the anticipation..." It's January 1943 when Rita Vincenzo receives her first letter from Glory Whitehall. Glory is an effervescent young mother, impulsive and free as a bird. Rita is a sensible professor's wife with a love of gardening and a generous, old soul. Glory comes from New England society; Rita lives in Iowa, trying to make ends meet. They have nothing in common except one powerful bond: the men they love are fighting in a war a world away from home. Brought together by an unlikely twist of fate, Glory and Rita begin a remarkable correspondence. The friendship forged by their letters allows them to survive the loneliness and uncertainty of waiting on the home front, and gives them the courage to face the battles raging in their very own backyards. Connected across the country by the lifeline of the written word, each woman finds her life profoundly altered by the other's unwavering support. A collaboration of two authors whose own beautiful story mirrors that on the page, I'll Be Seeing You is a deeply moving union of style and charm. Filled with unforgettable characters and grace, it is a timeless celebration of friendship and the strength and solidarity of women.
Praise For I'll Be Seeing You…
"Engaging, charming and moving, a beautifully rendered exploration of WWII on the homefront and the type of friendship that helps us survive all manner of battles."
-Kirkus (starred review)

"Timeless and universal...[a] deeply satisfying tale."
-Booklist


"A wonderful affirmation of the life-enhancing potential of female friendship." -Margaret Leroy, author of The Soldier's Wife



"I devoured this story in one greedy, glorious gulp. Oh, the women! I love them. I love their families and their voices and their stories. I bet you'll love them, too." -Marisa de los Santos, bestselling author of Love Walked In



"A delight! I'll Be Seeing You made me want to get out a pen and paper and write a friend a good old-fashioned letter." -Sarah Jio, author of The Violets of March



"Original and heartfelt...Set in World War II, yet somehow timeless, this novel is as beautifully written as it is captivating. An absolutely terrific debut." -Sarah Pekkanen, author of The Opposite of Me



"Women on the WWII home front faced loneliness and terrible fears. But I'll Be Seeing You tells the compelling story of two women who endured, bolstered by duty, love and, most important, friendship. I read this sweet, compassionate novel with my heart in my throat." -Kelly O'Connor McNees, author of The Lost Summer of Louisa May Alcott



"Vivid and well-crafted, I'll Be Seeing You poignantly illustrates the hopes and struggles of life on the home front. Readers will laugh, cry and be inspired by this timeless story of friendship and courage." -Pam Jenoff, bestselling author of The Kommandant's Girl
Mira Books, 9780778314950, 313pp.
Publication Date: May 28, 2013
Rita and Glory's friendship was born of intimacy, even though they don't know each other before they begin writ¬ing. The definition of intimacy is "shared fear." How does this explain the depth of their friendship? Have you ever had a close friend with whom you shared fear? If so, how is that friendship different from others you have?
Rita and Glory are very different people. They are from dif¬ferent parts of the country, they are not the same age and they come from different social classes. They also share simi¬larities with each other: motherhood, community, a strong sense of women's rights. Did you identify with one or the other character because of their similarities, or because of their differences? Which one, and why?
Glory and Rita spend a lot of time in their letters talking about their victory gardens. The gardens become a meta¬phor in the novel. What are some of the things the gardens represent? Was anyone inspired to plant their very own victory garden?
The romance between Levi and Glory is complicated. They were friends, childhood sweethearts, and then they were both left behind when Robert went to war. Why do you think Glory let the romance go as far as it did? How did she show her remorse? Can you sympathize with her actions? Do you forgive her? How do you feel about how the love triangle was ultimately resolved?
I'll Be Seeing You explores the many types of sacrifices people make during wartime. What did the characters in this novel sacrifice? How did they feel about their personal sacrifices? About the sacrifices of others? Would you have made the same sacrifices under the circumstances in the book? Why?
Social historians have often noted the importance of the women who went to work during wartime, seeing them as the root of the women's equal rights movement later in the twentieth century. How do the female characters in I'll Be Seeing You illustrate this? In what ways is it similar or dif¬ferent today?
The recipes in the book are real wartime recipes. Did you try making any of the dishes? If so, do you have a favorite? (We hope you brought them to your book club meetings!)
To a certain extent, most of the characters are waiting for something (oftentimes, multiple things). Besides waiting for their men to come home, what else are Glory and Rita wait-ing for? How about some of the other characters? Do you feel the wait is worth it?
A few of the letters are marked Unsent. Why do you think the women decided not to send these particular letters? How would their stories change if they had? What do the unsent letters reveal about Glory and Rita's characters?
In Rita's final letter to Sal, she writes that Glory taught her "how to take the past and press it carefully onto the pres¬ent." Discuss the importance of memories in the novel and how memories of the past impact the present action. How do they shape the characters and their actions, the deci¬sions they make?
or
Not Currently Available for Direct Purchase