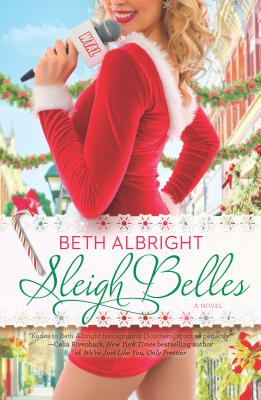 Sleigh Belles (Paperback)
Mira Books, 9780778315308, 326pp.
Publication Date: September 24, 2013
* Individual store prices may vary.
or
Not Currently Available for Direct Purchase
Description
Join the Sassy Belles this holiday seasonit's Christmas, Southern-style
With her hair perfectly coiffed, nails freshly manicured and a heavy trail of perfume wafting behind her, local news reporter Dallas Dubois is sure she's about to kick her careerand maybe her love lifeinto high gear. The director of the Tuscaloosa children's Christmas play has fallen ill, and Dallas is ordered by her station manager to take the reins. Everyone is shockedespecially Cal Hollingsworth, who still remembers her as the Ice Queen from high school.
If nothing else, Dallas has never met a challenge that a little lip gloss and a Chanel knockoff couldn't fix. But she has no idea how to relate to these kids, and their brutal honesty is giving her pause. Things are made even more complicated by the butterflies she gets whenever Cal is near.
But when long-lost family members reenter her life, Dallas's icy veneer begins to melt. And with Cal by her side, she soon realizes that it's what's under all the hair spray that counts.
Sexy Southern funwith a hint of magnolia
About the Author
Beth Albright is a Tuscaloosa native, former Days of Our Lives actress, and former radio and TV talk show host. She is a graduate of the University of Alabama School of Journalism. She is also a screenwriter, voice-over artist and mother. She is married to her college sweetheart, Ted. A perpetually homesick Southern Belle and a major Alabama Crimson Tide fan, she splits her time between San Francisco and, of course, Tuscaloosa.
Praise For Sleigh Belles…
"By turns tender, witty, steamy, and sharp, Albright's debut novel proves she's a gifted storyteller." Booklist on The Sassy Belles



"Albright good-naturedly displays her inner redneck while steering this giddy Dixie romp with ease-leaving lots of room at the happy ending for another adventure starring these steel magnolias." Publisher's Weekly on The Sassy Belles


"The Sassy Belles reminded me that the South is like no other place on earth. Kudos to Beth Albright for capturing its spirit so perfectly in this lighthearted debut novel."

Celia Rivenbark,
NYT bestselling author of We're Just Like You, Only Prettier
Advertisement