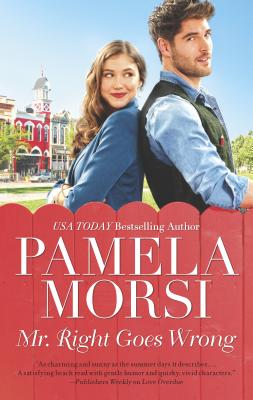 Mr. Right Goes Wrong (Mass Market Paperbound)
Mira Books, 9780778316497, 398pp.
Publication Date: July 29, 2014
* Individual store prices may vary.
or
Not Currently Available for Direct Purchase
Description
www.PamelaMorsi.com
No More Mr. Nice Guy
Like a bad-choice-making boomerang, Mazy Gulliver has returned to her mom's tiny house in Brandt Mountain. But this time, she's got her teenage son, Tru, in tow and no intention of messing up ever again.Mazy's so determined to rebuild her life she hardly minds beingthe new loan collector, or even working for Tad, her ex. She's not here to make friendsor fall in love.
Sweet, dependable Eli Latham has loved Mazy since they got pretend married in second grade. But after being burned by Mazy for two decades, Eli's got a new strategy. Mazy likes bad boys, so a bad boy is what he'll be. How hard can it be to act like a jerk?
Not for the first time, men are making Mazy crazy, though she's determined to do what's right for her and Tru. But breaking old habits is hard, and if she really wants things to change she'll have to face her biggest adversary: herself.
Advertisement