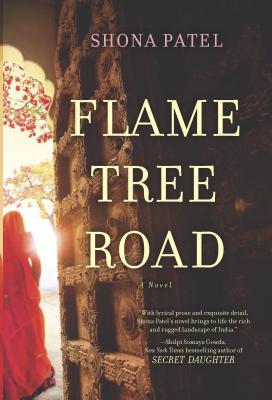 Flame Tree Road
Paperback

* Individual store prices may vary.
Other Editions of This Title:
Digital Audiobook (6/29/2015)
Compact Disc (6/10/2015)
Compact Disc (6/10/2015)
Description
For fans of Alka Joshi's The Henna Artist, Shona Patel brings you the story of a man with dreams of changing the world, who finds himself changed by love. From the acclaimed author of Teatime for the Firefly comes the story of a man with dreams of changing the world, who finds himself changed by love 1870s India. In a tiny village where society is ruled by a caste system and women are defined solely by marriage, young Biren Roy dreams of forging a new destiny. When his mother suffers the fate of widowhood--shunned by her loved ones and forced to live in solitary penance--Biren devotes his life to effecting change. Biren's passionate spirit blossoms as wildly as the blazing flame trees of his homeland. With a law degree, he goes to work for the government to pioneer academic equality for girls. But in a place governed by age-old conventions, progress comes at a price, and soon Biren becomes a stranger among his own countrymen. Just when his vision for the future begins to look hopeless, he meets Maya, the independent-minded daughter of a local educator, and his soul is reignited. It is in her love that Biren finally finds his home, and in her heart that he finds the hope for a new world.
Mira Books, 9780778316657, 416pp.
Publication Date: June 30, 2015
Shamol Roy is a decent, gentle man and a loving husband and father. Biren seems to have a lot of the same traits when he grows up, marries and has a family of his own. What are the similarities between them, and what are the differences? Do you think this is a result of nature or nurture?
Sammy Deb is a spoiled rich boy who gets every last thing handed to him. In the end, he is happy and content to be a husband and father. What do you make of his character and his journey?
Biren spends his whole life fighting for women, and yet he suffers the loss of almost every woman he loves. Why do you think the author made this choice, and what significance does it seem to have to the story?
Shibani, Estelle and Maya are the most important influences on Biren's life and ambitions for female equality. But they are not the only characters who influence him. Who are some of the minor characters who play a significant role?
What are the differences between Estelle and Maya? What are the differences between the relationships Biren has with each? Who is better suited to him and why?
Biren describes Estelle as reminding him of his mother when his father was still alive. What are the similarities between the characters of Estelle and Shibani? What are the differences? Do you think these affected Biren's feelings toward Estelle?
When Biren meets the potter, the old man says, "Without the blessings of your ancestors and the roots of your community, a man can lose himself." Do you agree? What do you think of this statement in relation to Biren's journey to find himself?
The title and the story make much of the flame tree. What is the significance of this motif for you as a reader?
Nitin cares for Shibani in her old age; Mitra adopts Layla; Samaresh and Sammy have secure jobs when they return home from England. On the other hand, Shamol's brother shirks work and deprives his younger sibling of an education, and Maya and Moni do not receive individual care when crowded together with other relatives in their village home. What are the pros and cons of the joint family system?
Biren is a practical man who likes to work with his hands and see tangible results. What makes him different from the Calcutta/Cambridge armchair intellectuals?
Why is the widow's hand-painted bookmark significant to the story?
At Maya's insistence Biren goes to Calcutta to fulfill his dream. Was that a wise decision? Did Biren's ambition override his concern for Maya?
After Maya dies, does Biren make the right decision to leave four-year-old Moni and return to Silchar? Does he have a choice? Was there anything he could have done differently?
What is the significance of the Russian doll in the story?
An old tantrik by the riverbank made a sinister prophecy that Moni's life would be claimed by water. Did Biren do the right thing by not sharing this with Maya?