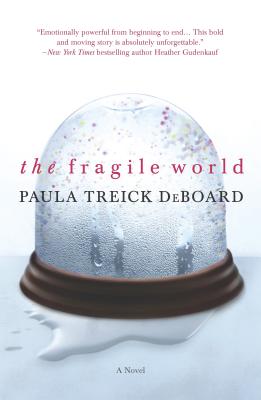 The Fragile World
Paperback

* Individual store prices may vary.
Other Editions of This Title:
Digital Audiobook (10/27/2014)
Compact Disc (10/6/2015)
MP3 CD (10/28/2014)
Description
From the author of stunning debut The Mourning Hours comes a powerful new novel that explores every parent's worst nightmare... The Kaufmans have always considered themselves a normal, happy family. Curtis is a physics teacher at a local high school. His wife, Kathleen, restores furniture for upscale boutiques. Daniel is away at college on a prestigious music scholarship, and twelve-year-old Olivia is a happy-go-lucky kid whose biggest concern is passing her next math test. And then comes the middle-of-the-night phone call that changes everything. Daniel has been killed in what the police are calling a "freak" road accident, and the remaining Kaufmans are left to flounder in their grief. The anguish of Daniel's death is isolating, and it's not long before this once-perfect family finds itself falling apart. As time passes and the wound refuses to heal, Curtis becomes obsessed with the idea of revenge, a growing mania that leads him to pack up his life and his anxious teenage daughter and set out on a collision course to right a wrong. An emotionally charged novel, The Fragile World is a journey through America's heartland and a family's brightest and darkest moments, exploring the devastating pain of losing a child and the beauty of finding the way back to hope. "Heart-stopping. A gripping read that delivers a beautiful reminder of the resilience of love." --Karen Brown, author of The Longings of Wayward Girls.
Mira Books, 9780778316763, 432pp.
Publication Date: October 28, 2014
Was it surprising that Kathleen was able to move on with her life while Curtis couldn't seem to move past his anger? What causes parents to react differently to tragedies in their family?
Would you be able to forgive a person who caused serious injury or death to a loved one—even if that act was unintentional?
Robert Saenz, although a fictional character, could be all too real. Curtis believes the judicial system has failed where Robert Saenz is concerned. What might be an appropriate punishment for an action—however unintentional—that has such deadly consequences?
Curtis doesn't seem to believe he could ever cause harm to Olivia or Kathleen, although of course his actions could have a devastating effect on their lives, as well. Does this lack of awareness come from a callousness or insensitivity to others, or is he simply blind to everything but his desire for revenge?
Consider Olivia's many fears throughout the book. Do these fears seem like a natural reaction to her circumstances, or a sign of a more serious issue? In what ways can fear affect a person?
Why does Kathleen take more responsibility than she deserves for what happens at the end of the book? Why doesn't Curtis intervene and publicly take responsibility?
When Curtis and Olivia say "Love…Eventually" at the end of the book, do you believe them? Can things work out for the Kaufmans, moving forward?