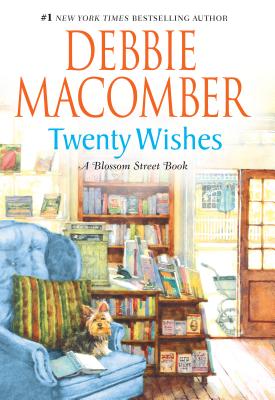 Twenty Wishes (Hardcover)
Mira, 9780778325505, 368pp.
Publication Date: May 1, 2008
* Individual store prices may vary.
or
Not Currently Available for Direct Purchase
Description
Anne Marie Roche wants to find happiness again. At thirty-eight, her life's not what she'd expected—she's childless, a recent widow, alone. She owns a successful bookstore on Seattle's Blossom Street, but despite her accomplishments, there's a feeling of emptiness.
On Valentine's Day, Anne Marie and several other widows get together to celebrate…what? Hope, possibility, the future. They each begin a list of twenty wishes, things they always wanted to do but never did.
Anne Marie's list starts with: Find one good thing about life. It includes learning to knit, doing good for someone else, falling in love again. She begins to act on her wishes, and when she volunteers at a local school, an eight-year-old girl named Ellen enters her life. It's a relationship that becomes far more involving than Anne Marie intended.
It also becomes far more important than she ever imagined.
As Ellen helps Anne Marie complete her list of twenty wishes, they both learn that wishes can come true—but not necessarily in the way you expect.
Have you ever written a list of wishes for yourself? How many? Anne Marie Roche and the other widows believe that writing down what you want helps you clarify it—and achieve it. Based on your own experience do you agree? If so, why do you feel that writing down a wish can lead to its fulfillment? What do you think of choosing a number of wishes (as Anne Marie and her friends do), rather than just writing down whatever comes to mind?
Anne Marie had agreed to no children before she married Robert, then decided she wanted a baby. What do you think of her actions—and Robert's? Could they have handled things in a better way? What would you have advised them to do? Did you sympathize with her feelings? And did you understand his reasons for not wanting a second family? Did you feel either or both of them acted in a manipulative way?
Despite wanting a child in her life and wanting to "do something for someone else," Anne Marie is initially reluctant to get involved with the Lunch Buddy program. Why do you think this is? Inertia? Fear? A sense of inadequacy? Some other reason? What is the primary factor, in your view, that compels her to follow through?
Lillie is in many ways a conventional society matron. What gives her the courage to break out of her restricted, although privileged life? Do you think wealth and privilege typically lead to more restrictive attitudes? Realistically, do she and Hector have a chance at a successful relationship?
In what ways is Barbie different from her mother? In what ways is she similar? Why is she so attracted to Mark Bassett? Does he represent a challenge to her? Is she drawn to him despite his resistance—or because of it? Where do you see their romance going?
The relationship between Anne Marie and her stepdaughter, Melissa, undergoes a profound transformation. What exactly brought it about, in your opinion? Do you understand why the two of them had never been able to connect, considering that Melissa was 13 at the time Anne Marie married Robert? Who's to blame for this—or is it even a question of blame? If you were Anne Marie, would you have done anything differently?
By the end of the story, Anne Marie finds what she was missing in life. And she finds it in unexpected ways. Did her list of 20 Wishes contribute to making this possible? If so, how? Have you made wishes that were fulfilled in ways you did not expect?"
Advertisement