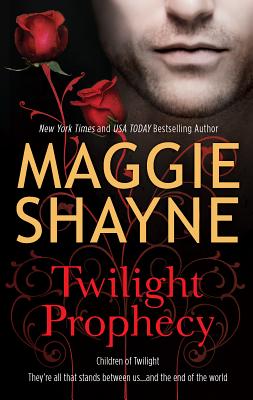 Twilight Prophecy (Mass Market Paperbound)
Mira Books, 9780778329800, 392pp.
Publication Date: April 19, 2011
* Individual store prices may vary.
or
Not Currently Available for Direct Purchase
Description

According to ancient prophecy, there's only one chance to avert the complete annihilation of the Undead. Twins James William and Brigit Poe, part human, part vampire, believe that they are that chance. In truth, the key lies with the reclusiveand mortalscholar Lucy Lanfair.
As Armageddon approaches, antivampire sentiment fuels a war neither side can win, driving James to abandon his moral code and draw Lucy into a deadly battle she wants no part of.
But Lucy soon realizes that she holds this powerful immortal's soul in her hands and that it's her destiny not only to stop a war but to save him from his inner darkness. If she fails, his race will dieand so will her heart. Is the power of love strong enough to save the world?

About the Author
NY Times bestselling author Maggie Shayne has published more than fifty novels & is best known for her \u201cTwilight\u201d vampire series, \u201cWings in the Night, \u201d & her chilling romantic suspense. Wiccan High Priestess, legal clergy, tarot reader, advice columnist, former soap opera writer, & RITA Award winner, the author lives in rural Cortland County NY with her partner Lance, 2 mastiffs, a bulldog, cat, bearded dragon & reef aquarium.
Advertisement