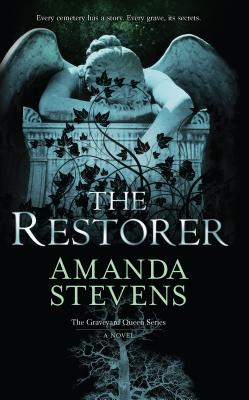 The Restorer (Paperback)
Mira Books, 9780778329817, 376pp.
Publication Date: April 19, 2011
Description

My name is Amelia Gray. I'm a cemetery restorer who sees ghosts. In order to protect myself from the parasitic nature of the dead, I've always held fast to the rules passed down from my father. But now a haunted police detective has entered my world and everything is changing, including the rules that have always kept me safe.
It started with the discovery of a young woman's brutalized body in an old Charleston graveyard I've been hired to restore. The clues to the killerand to his other victimslie in the headstone symbolism that only I can interpret. Devlin needs my help, but his ghosts shadow his every move, feeding off his warmth, sustaining their presence with his energy. To warn him would be to invite them into my life. I've vowed to keep my distance, but the pull of his magnetism grows ever stronger even as the symbols lead me closer to the killer and to the gossamer veil that separates this world from the next.

About the Author
Amanda Stevens lives in Houston, Texas, with her husband and a black cat named Lola. She is an avid reader, a fledgling taphophile, and a collector of Alfred Hitchcock memorabilia. When she\u2019s not writing, she likes taking road trips through the South. You can find her online at www.amandastevens.com
Praise For The Restorer…
"This is paranormal romance done well."
-New York Journal of Books on The Restorer



"The beginning of Stevens' Graveyard Queen series left this reviewer breathless. The author smoothly establishes characters and forms the foundation of future story lines with an edgy and beautiful writing style. Her story is full of twists and turns, with delicious and surprising conclusions. Readers will want to force themselves to slow down and enjoy the book instead of speeding through to the end, and they'll anxiously await the next installment of this deceptively gritty series."
-RT Book Reviews on The Restorer, 4.5 stars "Top Pick"



"I love this book! Amanda Stevens' The Restorer gives the reader a fascinating character-who interacts with more fascinating characters! Ms. Stevens has managed the difficult feat of combining charm and chills." -New York Times and USA TODAY Bestselling Author Heather Graham



"Stevens makes her MIRA debut with this taut, disturbing story. The characterizations are vivid, and it's got a lovely twist in the tail. Not for the squeamish!"
-RT Book Reviews on The Dollmaker



"Faced paced and plotted with spectacular precison and guile, this is undiluted suspense at its very finest. Nervous readers should read it in full daylight."
-RT Book Reviews on The Devil's Footprints



"Stevens' swiftly-moving, intricately plotted story has oodles of twists and chills-plus a jaw-dropping shocker of an ending. This is good stuff indeed."
-RT Book Reviews on The Whispering Room
Advertisement