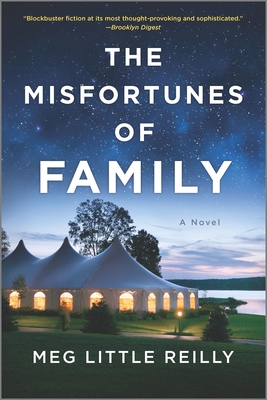 The Misfortunes of Family (Paperback)
Mira Books, 9780778369424, 352pp.
Publication Date: February 4, 2020
* Individual store prices may vary.
Description
WHAT BRINGS FAMILY TOGETHER CAN ALSO PULL IT APART JJ, Spenser, Charlie and Philip, the four adult sons of retired Senator John Bright, dutifully head with their partners to the lake house for their annual family reunion. The Brights are the picture of perfectness, a family of outsize pride--fun, attractive, competitive and a bit terrible... They have everything they need, except the ability to see themselves clearly. This year the senator has agreed to let a producer film them for a documentary. Naturally, they let their guard down--each adrift in his own way. Petty jealousies surface amid the joys of summer. Philip, the youngest and least like his siblings, announces an unconventional decision and earns the ribbing--or is it scorn--of his brothers. The senator toys with another political run. But not everyone wants in this time. So one by one, family secrets start to come out...and keep coming. It becomes apparent that, despite their affection for one another, it is time for this big, dysfunctional family to redefine what it means to be a Bright.