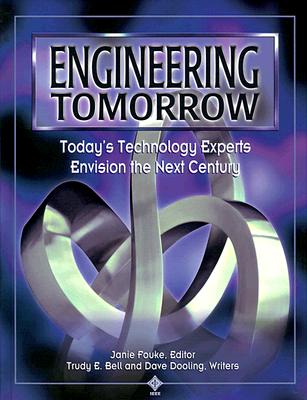 Engineering Tomorrow
Today's Technology Experts Envision the Next Century
Hardcover

* Individual store prices may vary.
Description
The rush of technology in the 20th century brought more advances than the 11th through 19th centuries combined. Automobiles and aircraft, television and radio, computers and global communications, medical imaging and the leap of humans beyond Earth's atmosphere -- all these were born from the creative spark and labor of scientists and engineers.
How can we ensure that technology is humane and not inane? Can nations mount an effective defense without having to shoot? When computer intelligence exceeds human intelligence, what will it mean to be human? If you could uninvent one technology, which would you choose -- and why? How can we prevent ourselves from drowning in high-tech waste? Why should engineers take the long view?
These questions and many others are explored in Engineering Tomorrow: Today's Technology Experts Envision the Next Century by 50 world-renowned experts in all disciplines of science and technology.
Nobel laureates Arno Penzias and Charles H. Townes, Internet co-inventor Vinton G. Cerf, environmentalist Stewart Brand, physicist Freeman J. Dyson, record-holding oceanographer Sylvia A. Earle, arms experts Norman R. Augustine and Richard L. Garwin, and microchip pioneers Jack S. Kilby and Gordon E. Moore are among the 50 featured scientists and engineers who envision technology's potential for the 21st century -- as well as the social responsibility borne by all who are engineering today and planning for tomorrow.
Wiley-IEEE Press, 9780780353626, 324pp.
Publication Date: January 14, 2000
About the Author
Janie Fouke is the author of Engineering Tomorrow: Today's Technology Experts Envision the Next Century, published by Wiley.
or
Not Currently Available for Direct Purchase