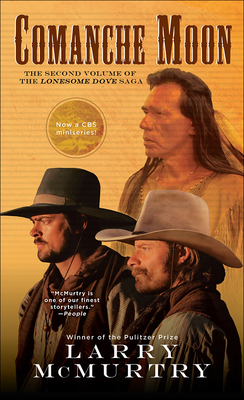 Comanche Moon (Lonesome Dove) (Prebound)
Perfection Learning, 9780780783720, 803pp.
Publication Date: June 1, 1998
Other Editions of This Title:
Paperback (10/17/2000)
Mass Market (6/1/1998)
* Individual store prices may vary.
Description
Comanche Moon by Larry McMurtry, a brilliant and haunting novel richly capable of standing on its own, completes the author's epic four-volume cycle of novels of the American West that began in 1985 with the Pulitzer Prize -- winning masterpiece, Lonesome Dove. We join Texas Rangers August McCrae and Woodrow F. Call in their middle years, just beginning to deal with the perplexing tensions of adult life -- Gus and his great love, Clara Forsythe; Call and Maggie Tilton, the young whore who loves him -- when they enlist with a Ranger troop in pursuit of Buffalo Hump, the great Comanche war chief; Kicking Wolf, the celebrated Comanche horse thief; and a deadly Mexican bandit king with a penchant for torture. Assisting the Rangers in their wild chase is the renowned Kickapoo tracker, Famous Shoes. Comanche Moon joins the twenty-year time line between Dead Man's Walk and Lonesome Dove, as we follow beloved heroes Gus and Call and their comrades-in-arms -- Deets, Jake Spoon, and Pea Eye Parker -- in their bitter struggle to protect an advancing Western frontier against the defiant Comanches, courageously determined to defend their territory and their way of life.