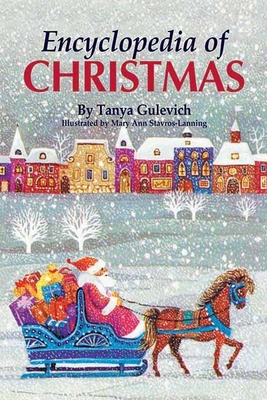 Encyclopedia of Christmas (Paperback)
Visible Ink Press, 9780780804555, 752pp.
Publication Date: September 1, 2002
* Individual store prices may vary.
Description
Christmas is a holiday with a tremendously rich tradition. But you'd have to be a Santa Claus brainiac to be familiar with all the history, myths, legends, customs and religious observances of the season. It's nice to see someone has gotten around to compiling a handy guide to Christmastime arcana. The book dutifully and reverently addresses all the religious and ethnic variations attached to the year-end holiday. One thing is for certain: After reading this hefty Christmas dissertation, you'll be one smart elf. - Arizona Republic. Ho Ho Ho. Officially, the phenomenon of Christmas now begins shortly after Labor Day. Apart from shop till you drop and credit cards on the max, Christmas is a holiday with a long history of twists and turns. The Encyclopedia of Christmas provides readers of all ages with a convenient, easy-to-use source of information on virtually every aspect of this sprawling celebration. From Advent to Zagmug, an ancient Sumerian festival of annual renewal, and with entries on related days and celebrations (such as the Annunciation, Candlemas, and Ephiphany), the Encyclopedia has Christmas covered.
About the Author
Tanya Gulevich grew up in the culturally diverse San Francisco Bay area listening to the stories of her immigrant grandparents. At Oberlin College she pursued interests in European history, sociology, and Asian Studies. Later she obtained an M.A. and Ph.D. in cultural anthropology from the University of Michigan. She lives in San Francisco, California.
or
Not Currently Available for Direct Purchase