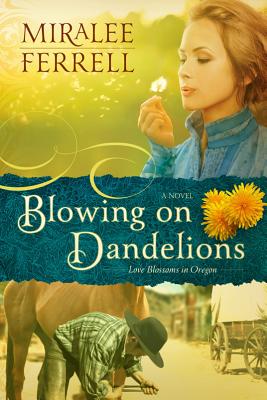 Blowing on Dandelions
Paperback

* Individual store prices may vary.
Description
Do Dandelion Wishes Actually Come True?Katherine Galloway knew this moment of calm wouldn t last, blown away like the dandelion seeds she scattered as a girl. In 1880, three years after her husband's death, she struggles to run an Oregon boardinghouse and raise two girls alone. Things don't get easier when her critical, domineering mother moves in. Katherine must make the situation work, but standing up for herself and her family while honoring her mother isn't easy. And with a daughter entering the teenage years, thepressure onKatherine becomes close to overwhelming. Then she crosses paths with Micah Jacobs, a widower who could reignite her heart, but she fears a relationship with him might send things over the edge. She must find the strength, wisdom, hope, and faith to remake her life, for everything is about to change.

Praise For Blowing on Dandelions…
"Blowing on Dandelions is a fun read with a beautiful setting in 1880s Baker City, Oregon. Ferrell has created characters you'll root for, and the attitudes feel appropriate for the time in this tender romance. The relationships of mothers and daughters in this story speak deeply of the need for acceptance, love, and respect from one's parents." 

Susan Page Davis, award-winning author of the Prairie Dreams and Texas Trails series

-Susan Page Davis

"As soft and gentle as the wisps of snowy seeds for which it is named, Blowing on Dandelions is an achingly tender love story that will lift your spirits—and your heart—high on a gentle breeze over the Oregon prairie." 

Julie Lessman, award-winning author of The Daughters of Boston and Winds of Change Series

-Julie Lessman

"Miralee Ferrell's Blowing on Dandelions is a deeply inspiring story about family conflict and the transforming power of rekindled love. A richly written story chock full of nuggets of divine wisdom this book was, for me, a genuinely satisfying read." 

Walt Larimore, best-selling author of Hazel Creek and Sugar Fork

-Walt Larimore

"Miralee Ferrell's writing style is always a delight, even as her stories are captivating. Blowing on Dandelions is no exception. From the opening scene the reader is drawn into Katherine Galloway's life, and we care about her from that moment on. This is more than a heart-tugging romance—though it is that—but it is also a mind-challenging read that will leave us in a different place than when we began." 

Kathi Macias, multi-award-winning author of 40 books, including the Golden Scrolls 2011 Novel of the Year and Carol Award finalist, Red Ink

-Kathi Macias

"Blowing on Dandelions is an amazing, deeply emotional story. Each of the characters is so sympathetic and well drawn that it was impossible to put the book down. Ferrell is a wonderful writer who handles the pain of physical and emotional trauma beautifully. Her characters are appealing, with a touching and believable faith journey, and the romance is lovely. My only regret was reaching the final page! Miralee Ferrell's future books will be an automatic purchase from now on!" 

Roxanne Rustand, author of Duty to Protect

-Roxanne Rustand

"An interesting combination of the classic Western and prairie romances. No cowboys but a hero who loves his son and a heroine who loves her daughters. Mix in a boardinghouse, a mysterious boarder, and two matriarchs, marking their territory. Katharine Galloway is a heroine to root for! And Miralee Ferrell is an author to watch!"
Lyn Cote, author of La Belle Christiane
-Lyn Cote
David C Cook, 9780781408080, 400pp.
Publication Date: June 1, 2013
About the Author
Miralee Ferrell is a speaker, accredited counselor, and American Christian Fiction Writers chapter president who has published multiple contemporary and historical romance novels. She and her husband enjoy horseback riding, sailing, and family gatherings around their eleven-acre property in Washington State s beautiful Columbia River Gorge.

"
or
Not Currently Available for Direct Purchase