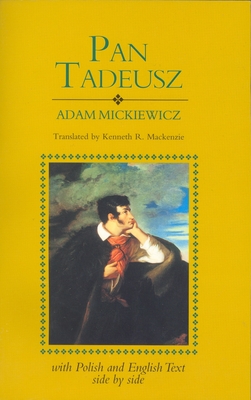 Pan Tadeusz (Revised)
With Text in Polish and English Side by Side
Paperback

* Individual store prices may vary.
Other Editions of This Title:
Paperback (12/15/1962)
Paperback (8/5/2020)
Paperback (4/30/2019)
Paperback (7/3/2020)
Paperback (10/7/2015)
Paperback, Polish (9/29/2013)
Hardcover (8/22/2015)
Paperback (4/26/2011)
Hardcover (8/14/2020)
Hardcover (4/3/2018)
Paperback (9/25/2018)
Paperback, Polish (1/20/2018)
Description
An epic tale of country life among the Polish and Lithuanian gentry in 1811-1812, PAN TADEUSZ by Adam Mickiewicz is perhaps Poland's best-known literary work and has been translated into almost every European language. This bilingual edition, with side by side Polish and English, features Kenneth R. Mackenzie's celebrated English translation.
The plot has the typical elements of a romantic, historical novel: a feud between two ancient families, a love story crossed by the feud, a mysterious figure who dominates the action, and a number of eccentric subordinate characters humorously depicted.
To Poles of all generations, the life, the scenes, and the characters embody the ideals, sentiments and way of life of the whole nation.
Hippocrene Books, 9780781800334, 618pp.
Publication Date: January 1, 1992