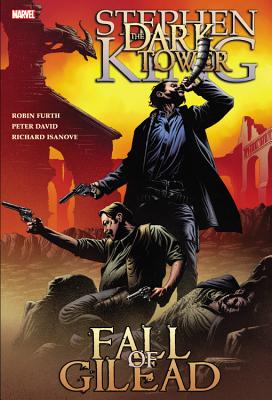 Fall of Gilead (Paperback)
Marvel Comics Group, 9780785129523, 208pp.
Publication Date: November 2, 2011
* Individual store prices may vary.
or
Not Currently Available for Direct Purchase
Description
Waiting for the fall... How could you have done it, Roland? How could you have killed your own mother? That's what everyone in Gilead's asking - even your grieving father. But you know the answer: Marten Broadcloak and one of them evil grapefruits. That's how. And while you rot in jail, the plot your matricide was only one small part of is wrapping its bloody and black tendrils around Gilead. Your town - the home of the Gunslingers - is the prize possession of the great enemy of the land, John Farson. And he means to have it. Gilead will fall, it will. And it will fall to the death of a thousand cuts. It started with your mother, yes, but it won't end there.
About the Author
Peter David has had over fifty novels published, including Sir Apropos of Nothing and the sequel The Woad to Wuin, Knight Life, Howling Mad, and the Psi-Man adventure series. He is the co-creator and author of the bestselling Star Trek: New Frontier series for Pocket Books. Peter's comic book resume includes an award-winning twelve-year run on The Incredible Hulk, and he has also worked on such varied and popular titles as Supergirl, Young Justice, Spider-Man, Spider-Man 2099, X-Factor, Star Trek, Wolverine, and many others. Robin Furth is the personal research assistant to Stephen King and the author of Stephen King's The Dark Tower: A Complete Concordance, which was published by Scribner on December 5, 2006.
Advertisement