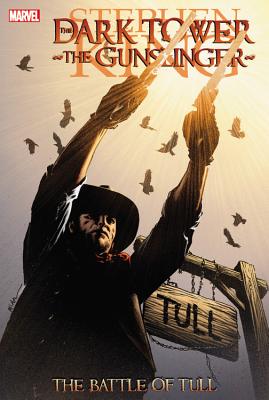 Dark Tower: The Gunslinger: The Battle of Tull (Hardcover)
The Gunslinger: The Battle of Tull
Marvel Comics, 9780785149330, 136pp.
Publication Date: January 25, 2012
* Individual store prices may vary.
or
Not Currently Available for Direct Purchase
Description
In a saloon in the town of Tull, the last gunslinger is approached by a bizarre figure that has a message for him. The essage is terrifying. What's worse, it is delivered by a dead man named Nort whose corpse was animated to serve this very purpose. And that is only the beginning of the horrors awaiting the gunslinger in this strange place deep within Mid-World. We continue Roland Deschain's quest for the Man in Black that has become his obsession. Featuring the artistic talents of Michael Lark, whose fine pencils have graced the pages of Daredevil and Spider-Man. COLLECTING:
Dark Tower: The Gunslinger - The Battle of Tull 1-5.
About the Author
Peter has had over fifty novels published, including Sir Apropos of Nothing and the sequel The Woad to Wuin, Knight Life, Howling Mad, and the Psi-Man adventure series. He is the co-creator and author of the bestselling Star Trek: New Frontier series for Pocket Books. Peter's comic book resume includes an award-winning twelve-year run on The Incredible Hulk, and he has also worked on such varied and popular titles as Supergirl, Young Justice, Spider-Man, Spider-Man 2099, X-Factor, Star Trek, Wolverine, and many others. Robin Furth is the personal research assistant to Stephen King and the author of Stephen King's The Dark Tower: A Complete Concordance, which was published by Scribner on December 5, 2006.
Advertisement