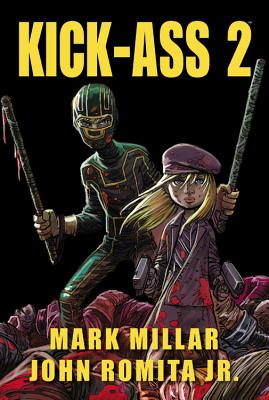 Kick-Ass 2 (Hardcover)
Marvel Comics Group, 9780785152453, 208pp.
Publication Date: June 13, 2012
Description
The concluding half of Kick-Ass 2, following Kick-Ass 2 Prelude: Hit-Girl, the sequel to the biggest creator-owned comic of the decade--the one that spawned the number one hit movie and the worldwide phenomenon KICK-ASS is back, just as over-the-top as ever As everybody's favorite psychotic 11-year-old HIT GIRL trains KICK-ASS to be...well, a bad-ass, RED MIST gathers a team of super-villains to take them down It's super hero mayhem as only MARK MILLAR and JOHN ROMITA JR. can bring you.
About the Author
Mark Millar has been one of the key writers for Marvel Comics in the 21st century. His first major contribution to Marvel was with Ultimate X-Men. Next up was The Ultimates, a new rendering of the Avengers that was to continue building on the success of the Ultimate line. He and artist Bryan Hitch pulled it all off in spades: The Ultimates and its sequel, Ultimates 2, were ensconced at the top of the sales charts every month; what's more, they were critical successes, as well. Amid building a small library of Millarworld indie comic books -- including the titles Chosen and Wanted, the latter of which was turned into a Hollywood blockbuster starring Angelina Jolie -- he managed to write Civil War, the epic seven-issue miniseries that definitively reshaped the landscape of Marvel's heroes. John Romita Jr. is best known for his extensive work with Marvel Comics from the 1970s to present day.
Advertisement