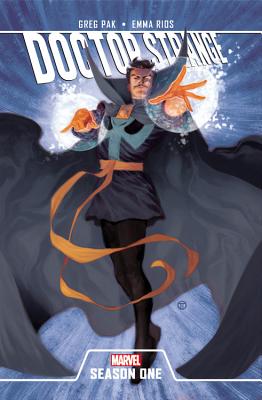 Dr. Strange: Season One (Hardcover)
Season One
Marvel Comics, 9780785163879, 136pp.
Publication Date: September 12, 2012
* Individual store prices may vary.
or
Not Currently Available for Direct Purchase
Description
A window-crashing, high-flying, globe-traveling, ghost-battling adventure from the earliest days of Doctor Strange's training in the mystic arts Part Indiana Jones, part Lord of the Rings, thrill to this new tale of how a selfish, arrogant surgeon collided with a hot-headed martial artist to become the greatest team the mystic arts have ever seen If only they can stop hitting each other and figure out how all this magic stuff works anyway. Also featuring DEFENDERS (2012) #1, by Matt Fraction and Terry Dodson.
About the Author
Greg Pak is an American New York-based film director/comic book writer, known for his work on such books featuring the Hulk such as the character defining classic World War Hulk storyline.

Based in Spain, Emma Rios is building a name for herself as a comic book illustrator. As well as her work on HEXED for BOOM! Studios, she has caught the attention & admiration of Warren Ellis.

She worked on Strange mini-series for her first Marvel project. The author of which, Mark Waid, praises her work and was excited to collaborate with her again after HEXED. She is also a fan of Steve Ditko's early work on Doctor Strange, which Waid claims is evident in her current work. Later, she also worked on an Osborn mini-series.
Advertisement