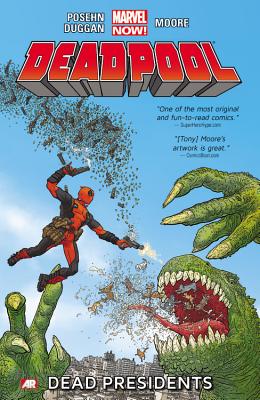 Deadpool - Volume 1 (Paperback)
Dead Presidents (Marvel Now)
Marvel, 9780785166801, 136pp.
Publication Date: June 11, 2013
* Individual store prices may vary.
Description
Part of the Marvel NOW! initiative! Dead former United States presidents, from George Washington to Gerald Ford, have been resurrected--and that's bad. The Marvel heroes can't be the ones to stop them...someone is needed with the reputation, skills and plausible deniability to take out these com-monsters in chiefs. Deadpool time is NOW! Be here as Deadpool de-un-deadifies ex-Presidents left and right...matching wits with Tricky Dick Nixon, fighting a grudge match against Honest Abe Lincoln, and battling Ronald Reagan--in space! Do you need more than that?! Fine, then: monkeys! And maybe Dr. Strange if you're good! This is the Deadpool series you will marry someday! In Wade We Trust! COLLECTING: Deadpool 1-6
About the Author
Brian Edmund Posehn is an American actor, voice actor, musician, writer, and comedian, known for his roles as Jim Kuback on The WB's Mission Hill and Brian Spukowski on Comedy Central's The Sarah Silverman Program

Tony Moore is an American comic book artist, whose work consists mainly of genre pieces, most notably in horror and science fiction, with titles such as Fear Agent, The Exterminators, and The Walking Dead.