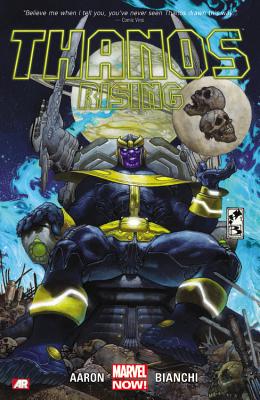 Thanos Rising (Marvel Now) (Paperback)
Marvel Comics, 9780785184003, 120pp.
Publication Date: October 29, 2013
Description
The vile face of Thanos left audiences in shock after last summer's Marvel Studios' "The Avengers" movie...but who is this eerily disturbing villain? Discover the hidden truth, as Thanos rises as the unrivaled rogue of wretchedness in this gripping tale of tragedy, deceit and destiny. Where did this demi-god of destruction come from - and more importantly, what does he want from the universe? Death has been shadowing Thanos for his entire life, watching his inner darkness grow...but why? The answers come from the incredible creative team of Jason Aaron (Wolverine, X-Men Origins) and Simone Bianchi (Wolverine, Astonishing X-Men) Prepare for a journey that will not only change the course of one boy's life...but will soon change the very nature of the Marvel Universe. What comes after "Marvel NOW "? Whatever it is, it starts HERE COLLECTING: Thanos Rising 1-5
About the Author
Writer Jason Aaron's early collaboration with artist Cameron Stewart on DC/Vertigo's The Other Side was named one of The Washington Post's "Best Comics of 2007." His next project, Scalped, garnered industry-wide praise and led to a guest spot on Wolverine. After signing with Marvel Comics, Aaron completed another run on Wolverine, as well as stints on Black Panther and Ghost Rider, before moving on to launch Wolverine Weapon X and relaunch Wolverine. He brought Frank Castle's tortured tale to a devastating end in the pages of PunisherMAX and, in the wake of his status-quo-shattering miniseries X-Men: Schism, helped usher in a new era for Marvel's mutants in the pages of Wolverine and the X-Men. Italian artist Simone Bianchi spent 11 years making a name for himself in Europe, including writing and drawing his own science-fiction epic Ego Sum. He won Europe's prestigious Yellow Kid Award as the year's best Italian artist and writer. America first got a taste of his work in DC Comics' Seven Soldiers: Shining Knight. Bianchi has brought his ferocious talent to blockbuster runs on Wolverine with writer Jeph Loeb and Astonishing X-Men with Warren Ellis, as well as the epic limited series Thor: For Asgard.
Advertisement