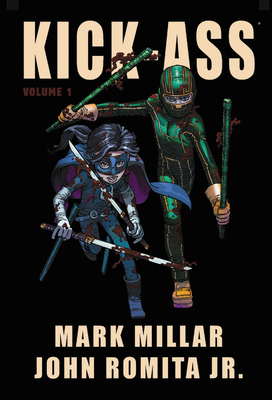 Kick-Ass, Volume 1 (Hardcover)
Marvel Comics Group, 9780785184010, 240pp.
Publication Date: May 14, 2013
* Individual store prices may vary.
or
Not Currently Available for Direct Purchase
Description
Have you ever really wanted to be a super hero? Dave Lizewski has - and he's not willing to let it stop with simple daydreams. Designing a suit for himself and taking the name "Kick-Ass," Dave decides to make his dreary existence more exciting - and maybe even help some people in the process. But with no special powers and outmatched by New York City's most hardened criminals, Kick-Ass might be in for a little more than he bargained for. With his super-hero secret identity gaining fans due to a popular viral video, and other masked vigilantes beginning to make their presence felt in the city, Dave knows that his extracurricular activity is dangerous, maybe even stupid - but he's got the itch, and it ain't going away. COLLECTING: Kick-Ass 1-8
About the Author
Mark Millar has been one of the key writers for Marvel Comics in the 21st century. His first major contribution to Marvel was with Ultimate X-Men. Next up was The Ultimates, a new rendering of the Avengers that was to continue building on the success of the Ultimate line. He and artist Bryan Hitch pulled it all off in spades: The Ultimates and its sequel, Ultimates 2, were ensconced at the top of the sales charts every month; what's more, they were critical successes, as well. Amid building a small library of Millarworld indie comic books -- including the titles Chosen and Wanted, the latter of which was turned into a Hollywood blockbuster starring Angelina Jolie -- he managed to write Civil War, the epic seven-issue miniseries that definitively reshaped the landscape of Marvel's heroes. John Romita Jr. is best known for his extensive work with Marvel Comics from the 1970s to present day. He lives in New York City.
Advertisement