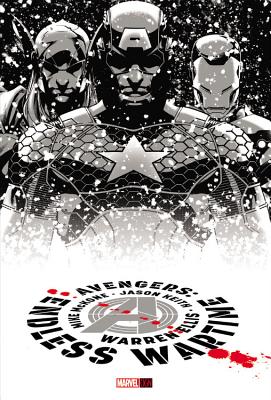 Avengers (Hardcover)
Endless Wartime
Marvel, 9780785184676, 120pp.
Publication Date: October 1, 2013
Other Editions of This Title:
Paperback (1/10/2017)
* Individual store prices may vary.
Description
The first in a series of all-new comic stories published directly in book form!

An abomination, long thought buried, has resurfaced in a war-torn land. But now it wears an American flag. Faced with another nightmare reborn, Captain America will not stand for yet more death at the hands of a ghost from his past. Haunted by his greatest shame, Thor must renew the hunt for a familiar beast. At their side, an assemblage of allies united to end the threats no one of them could face alone. They are soldiers. Warriors. Comrades-in-arms. Mighty heroes led by a living legend, stronger together than apart. They are the Avengers. Also includes exclusive AR video content, a free digital download of the book, and an introduction written by Agent Coulson himself Clark Gregg!
About the Author
Springing from the fertile ground of the U.K. comics scene, Warren Ellis came to Marvel during the early '90s and proved his iconoclastic mettle in the ultra-edgy series Hellstorm and the miniseries Druid - followed by fondly remembered, extended runs on Excalibur and Doom 2099. After making a name for himself as a premier talent with Wildstorm's Stormwatch, Transmetropolitan, The Authority and Planetary, Ellis returned to Marvel to pen such titles as Ultimate Fantastic Four, the Ultimate Galactus Trilogy and Iron Man. His Nextwave: Agents of H.A.T.E. was both a critical smash and cult favorite. In addition to reviving the 1980s New Universe in newuniversal and writing Thunderbolts, Ellis took over Astonishing X-Men following Joss Whedon and John Cassaday's departure, and penned perhaps the definitive story of the Armored Avenger in Iron Man's "Extremis."

Artist Mike McKone was pegged as a future industry superstar when his first work was published in DC's JLA and Legion. In 2001, McKone collaborated with writer Judd Winick to launch Marvel's Exiles, a surprise hit among X-fans. Two years later, he teamed with writer Geoff Johns to revamp Teen Titans for DC. Since signing an exclusive contract with Marvel, McKone's credits include Fantastic Four, Amazing Spider-Man and Avengers Academy.
or
Not Currently Available for Direct Purchase