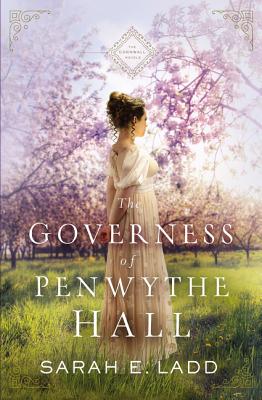 The Governess of Penwythe Hall
Paperback

* Individual store prices may vary.
Other Editions of This Title:
Digital Audiobook (4/15/2019)
Library Binding, Large Print (6/19/2019)
Compact Disc (4/16/2019)
Compact Disc (4/16/2019)
MP3 CD (4/16/2019)
Description
A governess must return to the Cornish coast amid the insidious rumors of murder that forced her away in this Regency romance. Set in the same time period as Poldark and Bridgerton, The Governess of Penwythe Hall is rich with family secrets, lingering danger, and the captivating allure of new love.
Cornwall, England, 1811: Blamed for her husband's death, Cordelia Greythorne fled Cornwall and accepted a governess position to begin a new life. Years later her employer's unexpected death and his last request for Delia to watch over his five children force her to reevaluate. She can't abandon the children now that they've lost both parents, but their new guardian lives at the timeworn Penwythe Hall . . . back on the Cornish coast where she's been warned never to return.
Bachelor Jac Twethewey is determined to revive Penwythe Hall's once-flourishing apple orchards, and he'll stop at nothing to see his struggling estate profitable again. He hasn't heard from his elder brother in years, so when his nieces, nephews, and their governess arrive unannounced, he battles both grief at his brother's death and bewilderment over this sudden responsibility.
Jac's priorities shift as the children take up residence in the ancient halls, but their secretive governess--and the sinister mysteries shrouding her past--might be the end to both Jac and Delia's carefully laid plans.
Praise for The Governess of Penwythe Hall:
"Brimming with dangerous secrets, rich characters, and the hauntingly beautiful descriptions Sarah Ladd handles so well, 1800s Cornwall is brought vividly to life in this well-crafted tale that kept me glued to the pages. What a brilliant start to a new series "--Abigail Wilson, author of Masquerade at Middlecrest Abbey
"Absolutely captivating Once I started reading, I couldn't put down The Governess of Penwythe Hall. This blend of Jane Eyre, Jane Austen, and Jamaica Inn has it all. Intrigue. Danger. Poignant moments. And best of all a sweet, sweet love story. This is by far my favorite Sarah Ladd book. Don't hesitate to snatch up this title "--Michelle Griep, Christy Award-winning author
Full-length Regency romance
First book in the Cornwall novels (The Governess of Penwythe Hall, The Thief of Lanwyn Manor, and The Light at Wyndcliff), but can be read as a stand-alone story
Book length: 94,000 words
Includes discussion questions for book clubs
Thomas Nelson, 9780785223160, 352pp.
Publication Date: April 16, 2019