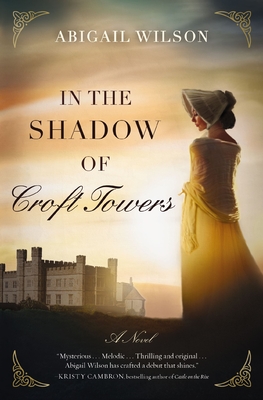 In the Shadow of Croft Towers (Paperback)
Thomas Nelson, 9780785223665, 336pp.
Publication Date: January 15, 2019
Other Editions of This Title:
Compact Disc (1/15/2019)
MP3 CD (1/15/2019)
Library Binding, Large Print (3/27/2019)
Compact Disc (1/15/2019)
* Individual store prices may vary.
Description
Nothing--and no one--at Croft Towers is what they claim in this Gothic Regency romance.
When Sybil Delafield's coach to Croft Towers was robbed by highwaymen, she should have realized that her new position as companion to old Mrs. Chalcroft would be no ordinary job. Upon Sybil's arrival, Mrs. Chalcroft sneaks into her room in the dark of night, imploring her to relay messages to town that are to stay hidden from the rest of the family. Who exactly is she working for and what do the messages contain?
When fellow passengers of the robbed coach are later murdered, Sybil's hunt for the truth takes on a new urgency. The only person she can rely on is Mr. Sinclair, Mrs. Chalcroft's godson, but under all his charms he too leads a double life. Sybil must decide if he is the one honest voice she can trust, or if he is simply using her for his own advances.
Croft Towers holds more than its share of secrets . . . and Sybil is determined to uncover them all.
Praise for In the Shadow of Croft Towers
"In the Shadow of Croft Towers is everything I love in a novel: a classic gothic feel, a regency setting, a mysterious hero . . . and secrets abounding " --Dawn Crandall, award-winning author of the Everstone Chronicles series

"Shades of Gothic romance in a portrait of Regency England . . . if Jane Austen ever met Jane Eyre, it would be at Croft Towers " --Kristy Cambron, author of Castle on the Rise
"Blending the unputdownable Regency flair of Georgette Heyer with the intricate plotting of Julie Klassen, Wilson not only places herself competently amidst beloved authors but carves out a unique place of her own." --Rachel McMillan, author of the Van Buren and DeLuca Mysteries
"Beautifully written, suspenseful, and satisfyingly romantic." --Jennifer Beckstrand, author of Home on Huckleberry Hill
Full-length Regency romance with a murder mystery (c. 95,000 words)
Perfect for fans of Sarah Ladd, Deanna Raybourn, Julie Klassen, Tasha Alexander, and Lauren Willig
Also by Abigail Wilson:

Midnight on the River Grey
Masquerade at Middlecrest Abbey
The Vanishing at Loxby Manor (available January 2021)

Includes discussion questions for book clubs