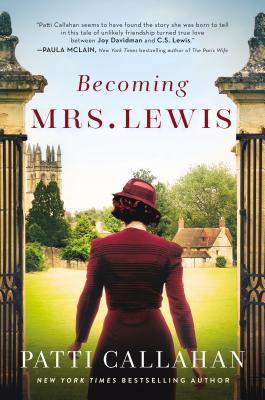 Becoming Mrs. Lewis (Hardcover)
The Improbable Love Story of Joy Davidman and C. S. Lewis
Thomas Nelson, 9780785224501, 416pp.
Publication Date: October 2, 2018
Other Editions of This Title:
Paperback (3/24/2020)
Paperback, Spanish (6/25/2019)
Library Binding, Large Print (10/3/2018)
Compact Disc (10/2/2018)
MP3 CD (10/2/2018)
Paperback (10/2/2018)
Compact Disc (10/2/2018)
* Individual store prices may vary.
Description
Now a USA TODAY and Publishers Weekly bestseller
"Patti Callahan seems to have found the story she was born to tell in this tale of unlikely friendship turned true love between Joy Davidman and C. S. Lewis, that tests the bounds of faith and radically alters both of their lives. Their connection comes to life in Callahan's expert hands, revealing a connection so persuasive and affecting, we wonder if there's another like it in history. Luminous and penetrating." --Paula McLain, New York Times bestselling author of The Paris Wife
In a most improbable friendship, she found love. In a world where women were silenced, she found her voice.
From New York Times bestselling author Patti Callahan comes an exquisite novel of Joy Davidman, the woman C. S. Lewis called "my whole world." When poet and writer Joy Davidman began writing letters to C. S. Lewis--known as Jack--she was looking for spiritual answers, not love. Love, after all, wasn't holding together her crumbling marriage. Everything about New Yorker Joy seemed ill-matched for an Oxford don and the beloved writer of Narnia, yet their minds bonded over their letters. Embarking on the adventure of her life, Joy traveled from America to England and back again, facing heartbreak and poverty, discovering friendship and faith, and against all odds, finding a love that even the threat of death couldn't destroy.
In this masterful exploration of one of the greatest love stories of modern times, we meet a brilliant writer, a fiercely independent mother, and a passionate woman who changed the life of this respected author and inspired books that still enchant us and change us. Joy lived at a time when women weren't meant to have a voice--and yet her love for Jack gave them both voices they didn't know they had.
At once a fascinating historical novel and a glimpse into a writer's life, Becoming Mrs. Lewis is above all a love story--a love of literature and ideas and a love between a husband and wife that, in the end, was not impossible at all.
"Patti Callahan Henry breathes wondrous fresh life into one of the greatest literary love stories of all time . . . The result is a deeply moving story about love and loss that is transformative and magical." --Pam Jenoff, New York Times bestselling author of The Orphan's Tale
"I was swept along, filled with hope, and entirely beguiled, not only by the life lived behind the veil of C. S. Lewis's books but also by the woman who won his heart. A literary treasure from first page to last." --Lisa Wingate, New York Times bestselling author of Before We Were Yours
"Profoundly evocative, revealing an intimate view of a woman whose love and story had never been fully told . . . until now . . . Becoming Mrs. Lewis is a tour de force and the must-read of the season " --Mary Alice Monroe, New York Times bestselling author of Beach House Reunion
"Patti Callahan somehow inhabits Davidman, taking her readers inside the writer's hungry mind and heart. We keenly feel Davidman's struggle to become her own person at a time (the 1950s) when women had few options . . . An astonishing work of biographical fiction." --Lynn Cullen, bestselling author of Mrs. Poe
"Patti Callahan breathes life into this fascinating woman whose hunger for knowledge leads her to buck tradition at every turn." --Diane Chamberlain, New York Times bestselling author of The Dream Daughter
About the Author
Patti Callahan (who also writes as Patti Callahan Henry) is a New York Times bestselling author. Patti was a finalist in the Townsend Prize for Fiction, has been an Indie Next Pick, twice an OKRA pick, and a multiple nominee for the Southern Independent Booksellers Alliance (SIBA) Novel of the Year. Her work has also been included in short story collections, anthologies, magazines and blogs. Patti attended Auburn University for her undergraduate work, and Georgia State University for her graduate degree. Once a Pediatric Clinical Nurse Specialist, she now writes full time. The mother of three children, she lives in both Mountain Brook, Alabama and Bluffton, South Carolina with her husband.
1. Did you know much about Joy Davidman before you read this novel? Did you come with preconceived notions of who she was? How did those change during the novel? What was the most surprising part of this story for you?
2. Not many people supported Joy's choices to first travel to England and then move there. There also didn't seem to be much support from Jack's friends as their friendship and then love story blooms. How did Joy find the strength to overcome the resistance? How did they survive this disapproval to come together? What were the strengths that allowed them to resist the naysayers?
3. How did the time and place – 1950s England when women weren't even admitted to Magdalen College where Jack taught – affect their love story? Would it be different today? How would this story be different today?
4. Joy often thought about her past—both her love affairs and her family life. How did the past influence her personality and decisions? How did it affect her self-esteem and self-love? How did she come out on the other side?
5. Joy and Jack enjoyed an almost three-year pen-friendship before ever meeting. Can friendships begin with words and notes? Can one become friends through letters alone? Can we be more vulnerable on paper than in face-to-face contact?
6. We meet many famous people along Joy's journey —J. R. R. Tolkien, Travers, Belle Kaufman, Michal Williams and many others. How do these people influence Joy's path to love? Were they as famous then as we deem them to be now or were they just other friends on the road to self-discovery? Did this ensemble of literary friends change Joy's path?
7. Many of Jack's last books, most notably, Till We Have Faces, were shaped by his friendship and love with Joy. Can you see her life and influence in his works written after 1950? If so, which ones and how? How did their co-writing, editing and long talks affect his work?