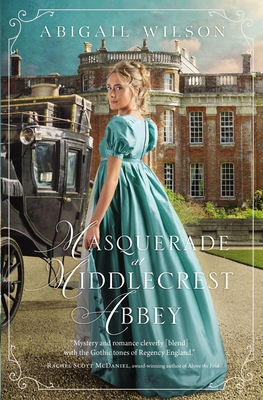 Masquerade at Middlecrest Abbey
A Regency Romance
Paperback

* Individual store prices may vary.
Other Editions of This Title:
Digital Audiobook (5/25/2020)
Compact Disc (5/26/2020)
Library Binding, Large Print (2/24/2021)
MP3 CD (5/26/2020)
Description
In this new Regency romance, a young unwed mother must protect her heart from the charms of her convenient new husband, Lord Torrington. She is not, however, prepared to protect her life.
When the widowed Lord Torrington agreed to spy for the crown, he never planned to impersonate a highwayman, let alone rob the wrong carriage. Stranded on the road with an unconscious young woman, he is forced to propose marriage to protect his identity and her reputation, as well as his dangerous mission.
Trapped not only by her duty to her country but also by her limited options as an unwed mother, Miss Elizabeth Cantrell and her infant son are whisked away to Middlecrest Abbey by none other than the elder brother of her son's absent father. There she is met by Torrington's beautiful grown daughters, a vicious murder, and an urgent hunt for the missing intelligence that could turn the war with France. Meanwhile she must convince everyone that her marriage is a genuine love match if her new husband has any hope of uncovering the enemy.
Determined to keep her son's true identity a secret, Elizabeth will need to remain one step ahead of her fragile heart, her uncertain future, and the relentless fiend bent on her new family's ruin.
Early Praise for Masquerade at Middlecrest Abbey:
"Murder is far from no one's thoughts in this delicious new romantic mystery from Abigail Wilson. With scandal dodging every turn of the page, mystery hiding behind the visage of each character, and a romance brewing with an English rake of the worse--and best--sorts, readers will find nothing lacking I was entranced, mesmerized, addlepated, and not a little bit bewildered as I wandered the halls of Middlecrest Abbey." --Jaime Jo Wright, author of the Christy Award-winning novel, The House on Foster Hill
"From the very first page, I was enraptured Masquerade at Middlecrest Abbey has intrigue, mystery, and suspense beautifully enhanced by the vulnerability revealed through memorable characters making this story impossible to put down. A must-read recommendation, this story is exactly what makes me love reading " --Natalie Walters, author of the Harbored Secrets series
"Suspicion shades the affluent grounds of Middlecrest Abbey in this riveting novel by Abigail Wilson. The artful balance of mystery and romance cleverly blends with the Gothic tones of Regency England. With exquisite prose and a layered plot, Masquerade at Middlecrest Abbey is a compelling story not to be missed." --Rachel Scott McDaniel, award-winning author of Above the Fold
Full-length Regency romance mystery (c. 90,000 words)
Perfect for fans of Sarah Ladd, Deanna Raybourn, Julie Klassen, Tasha Alexander, and Lauren Willig
Also by Abigail Wilson:

In the Shadow of Croft Towers
Midnight on the River Grey
The Vanishing at Loxby Manor (available January 2021)

Includes discussion questions for book clubs
Thomas Nelson, 9780785233077, 336pp.
Publication Date: May 26, 2020