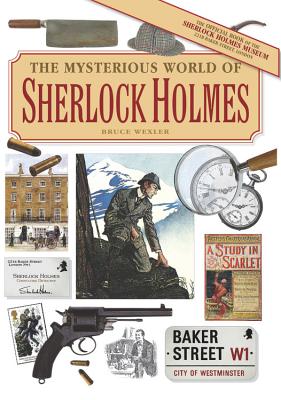 The Mysterious World of Sherlock Holmes (Hardcover)
Chartwell Books, 9780785830207, 192pp.
Publication Date: December 2, 2014
Other Editions of This Title:
Hardcover (1/21/2020)
* Individual store prices may vary.
Description
Over a century since his first appearance in print, Sherlock Holmes remains an iconic figure today. Mysterious World of Sherlock Holmes is a unique companion and a collector's dream, allowing fans to delve into the criminal environment of foggy, gas-lit Victorian London-the world of literature's all-time greatest detective.
This book brings to life the elements of Holmes's success, the crime scene of his day, his history in film and television, and the present-day Holmes legacy. Featured throughout are in-depth profiles of famous characters such as Holmes's faithful sidekick, Dr. Watson; his nemesis, Professor Moriarty. Readers will also find interesting biographic information on Sherlock Holmes's creator Sir Arthur Conan Doyle. Filled with more than 150 images-many pieces by the great original illustrators of Conan Doyle's stories-this volume presents an excellent mix of information to satisfy legions of Holmes collectors, mystery fans, and historians fascinated by a bygone era.
Don't miss out on this beautiful book of Holmes and Watson, the ultimate companion for the Sherlock Holmes fan. The Mysterious World of Sherlock Holmes is a beautiful gift for anyone fond of Sherlock Holmes and the world with which he lives. This is the official book of the Sherlock Holmes Museum at 221B Baker Street, London.
About the Author
Through meticulous study, Bruce Wexler has gained an intimate knowledge of the Victorian crime scene and early attempts at using forensic and logical methods of detection. Applying this study to his great fondness for the Sherlock Holmes stories, he has been able to blend the two — fact and fiction — to bring new insight into the life and times of the great detective.Bruce Wexler's other books are The Wild, Wild West of Louis L'Amour and The Authentic South of Gone with the Wind.
or
Not Currently Available for Direct Purchase