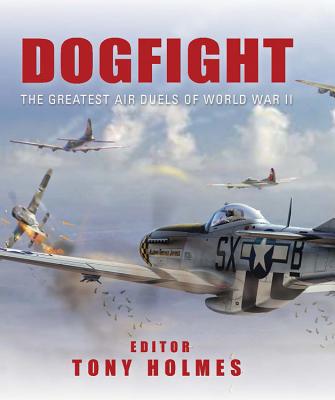 Dogfight (Hardcover)
The Greatest Air Duels of World War II
Chartwell Books, 9780785830283, 352pp.
Publication Date: April 15, 2013
Other Editions of This Title:
Hardcover (5/24/2011)
Paperback (8/15/2015)
* Individual store prices may vary.
Description
Written by Tony Holmes, an aerospace editor and leading expert on aviation history, Dogfight covers four air forces, three theaters, and ten iconic fighters. This book is the complete story of head to head aerial combat in World War II. In the skies above a world at war, individual skill, technical edge, and superior tactics all determined which pilot would emerge victorious from an aerial duel.
Matching up ten aerial rivals - including Spitfires, Messerschmitts, Mustangs and Zeros - with their greatest foes, this book analyzes the histories of the machines, their pilots and tactics, with thrilling accounts of true combat. Meticulously researched digital artwork recreates the cockpits, armament, and battles of each combatant.
About the Author
Tony Holmes has worked as Osprey Publishing's aerospace editor since 1989, having previously served as an author/photographer for this publishing house in Australasia.ÿ He is widely acknowledged as a leading expert on all periods of aviation history although his personal love is for the Battle of Britain, on which he has written a number of well received titles.ÿ For this book, he has contributed on his favorite subject - the legendary duels between Spitfires and Messerschmitts over southern England in summer 1940.
or
Not Currently Available for Direct Purchase