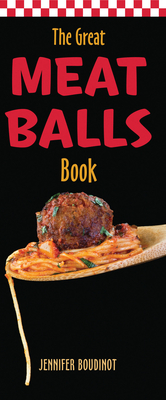 The Great Meatballs Book (Spiral bound)
Chartwell Books, 9780785832317, 160pp.
Publication Date: April 15, 2015
* Individual store prices may vary.
Description
Meatballs have always been a savory, satisfying, crowd-pleasing comfort food. Inside Great Meatballs Book, find all kinds of delicious meatball recipes featuring beef, chicken, turkey and lamb. With this book you'll realize and relish the many delicious flavors and combinations you can create.
Not only will you find a book full of highly satisfactory meatballs, delectable sauce recipes are included to accompany the main course. Mix and match recipes and flavors or follow the suggested pairingsâ??with Great Meatballs Book, there is no wrong combination.
Short ingredient lists and easy-to-create recipes are so easy, you'll want to make meatballs for dinner as often as possible. Make meatballs for an office party, sports party or to snack on during the holidays, they are an easy and delicious appetizer, lunch, or main dish.
Try a recipe from Great Meatballs Book next time the in-laws come to visit, or for your kidâ??s birthday party. The fun finger food can be added to a sandwich, or eaten with pasta, or alone, and meatballs are always a great way to feed a big group. Great Meatballs Book will help you make your next get together a hit! Can you smell the aroma wafting up from the pages yet? Pick up this book and start creating your meatball masterpiece tonight.
About the Author
Jennifer Boudinot, author of Gourmet Pizza Made Easy, brings the same easy to follow step by step directions on how to make the best tasting meatballs and sauces that will have a line of hungry fans outside your kitchen. She is also a bestselling writer and editor who has worked for over a decade with seniors in writing workshops.
or
Not Currently Available for Direct Purchase