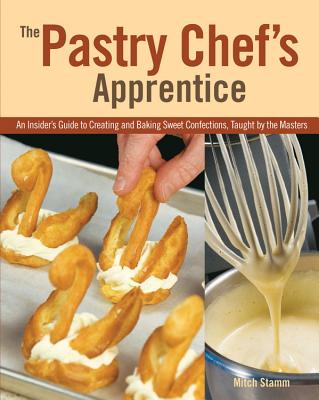 The Pastry Chef's Apprentice (Hardcover)
An Insider's Guide to Creating and Baking Sweet Confections, Taught by the Masters
Crestline Books, 9780785832560, 176pp.
Publication Date: September 29, 2015
Other Editions of This Title:
Paperback (7/1/2011)
* Individual store prices may vary.
Description
For many people, pastries, cakes, chocolates, and sweets come ready to eat right from the grocery store. If they're lucky, a local bakery or chocolate shop satisfies the community's sweet tooth. Few people think they have the skill or the time to tackle something as seemingly complicated and time-consuming as homemade pastry. In
The Pastry Chef's Apprentice
, author Mitch Stamm simplifies a culinary school's core pastry curriculum and teaches the reader just how quickly you can go from sifting and stirring to spectacular.
The masters featured in The Pastry Chef's Apprentice teach classic pastry skills, such as caramel, pate a choux, tart crusts, and more, to the amateur food enthusiast. Through extensive, diverse profiles of experienced experts plus fully illustrated tutorials and delicious recipes, the reader gets insider access to real-life chefs, bakers, culinary instructors, and more.
With these new skills—or just the chance to revisit their old standards—everyone from casual cooks to devoted epicures will learn dozens of new ways to take their kitchen skills to the next level.
Featured chefs include:
Laurent Branlard, USA: restaurateur and Executive Pastry Chef at the Swan and Dolphin Resorts at Disney World
Frederic Deshayes, France: Chief Pastry & Bakery Instructor at At-Sunrice GlobalChef Academy
Thaddeus Dubois, USA: former White House Executive Pastry Chef and Culinary Mentor
Robert Ellinger, UK/USA: owner of Baked to Perfection, founder of the Guild of Baking and Pastry Arts, and international pastry competition judge
Lauren V. Haas, USA: Assistant Pastry Chef at Albert Uster Imports and Instructor at Johnson & Wales University
Thomas Haas, Germany/USA
En-Ming Hsu, USA: Chef Instructor at the French Pastry School in Chicago
William Leaman, USA: World Champion Baker and Owner of Bakery Nouveau in Seattle
Iginio Massari, Italy: Author, Restaurateur, and Founder of the Academy of Italian Master Pastry Chefs
Kanjiro Mochizuki, Japan: Executive Pastry Chef at the Imperial Hotel in Tokyo
Ewald Notter, Switzerland/USA: Founder and Director of Education of Notter School of Pastry Arts
Kim Park, South Korea: owner of the Green House Bakery and captain of South Korea's national pastry team
Jordi Puigvert, Spain: founder of Sweet'n Go, consultant, and professor at the School of the Hotel de Girona in Spain
Anil Rohira, India/Switzerland: Corporate Pastry Chef for Felchlin Switzerland and coach and judge for national and international competitions
Sébastien Rouxel, France/USA: Executive Pastry Chef for the Thomas Keller Restaurant Group
Kirsten Tibballs, Australia: Founder of Savour Chocolate and Patisserie School in Melbourne
Franz Ziegler, Switzerland: Author and Consultant
 
About the Author
Mitch Stamm is an instructor with the International Baking & Pastry Institute at Johnson and Wales University in Rhode Island. He is former executive pastry chef of the Sun Valley Resort in Sun Valley, Idaho. He also served as pastry chef at Zingerman's Bakehouse in Ann Arbor, Michigan. A member of the Bread Bakers' Guild of America, Mitch has extensive training in hearth breads, the science of baking, pastries, and plated desserts. While in Idaho, he served on the board of the state chapter of Share our Strength, the national organization dedicated to hunger relief.
or
Not Currently Available for Direct Purchase