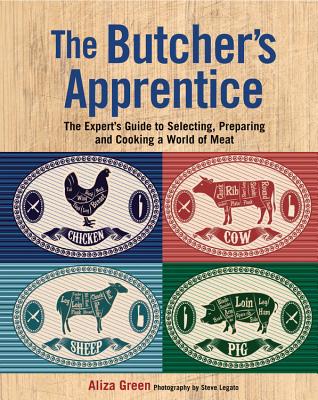 The Butcher's Apprentice (Hardcover)
The Expert's Guide to Selecting, Preparing, and Cooking a World of Meat
Crestline Books, 9780785832713, 176pp.
Publication Date: September 29, 2015
Other Editions of This Title:
Paperback (6/1/2012)
* Individual store prices may vary.
Description
The masters in The Butcher's Apprentice teach you all the old-world, classic meat-cutting skills you need to prepare fresh cuts at home. Through extensive, diverse profiles and cutting lessons, butchers, food advocates, meat-loving chefs, and more share their expertise. Inside, you'll find hundreds of full-color, detailed step-by-step photographs of cutting beef, pork, poultry, game, goat, organs, and more, as well as tips and techniques on using the whole beast for true nose-to-tail eating. Learn to choose, prepare and cook better meats with this comprehensive guide to butchering meat.
Inside The Butcherâ??s Apprentice you'll find a wealth of tips and tricks teaching even the most beginner-level cook how to cut their own meats like a butcher who has been in the industry for years. After going through the book and practicing a few times, it will be easy as pie to cut your own meats. Not sure what different cuts mean when shopping at the grocery store? Learn exactly what part of the body your cuts of meat are coming from with The Butcherâ??s Apprentice. Whether you're a casual cook or a devoted gourmand, you'll learn even more ways to buy, prepare, serve, and savor all types of artisan meat cuts with this skillful guide.
About the Author
Aliza Green is an award-winning Philadelphia-based author, journalist, and influential chef whose books include The Butcher's Apprentice, Making Artisan Pasta (Quarry Books, 2012),The Fishmonger's Apprentice (Quarry Books, 2010), Starting with Ingredients: Baking (Running Press, 2008), Starting with Ingredients (Running Press, 2006), four perennially popular Field Guides to food (Quirk, 2004–2007), Beans: More than 200 Delicious, Wholesome Recipes from Around the World (Running Press, 2004), and successful collaborations with renowned chefs Guillermo Pernot and Georges Perrier. A former food columnist for the Philadelphia Inquirer, Philadelphia Daily News, and Cooking Light magazine, Green is known for her encyclopedic knowledge of every possible ingredient, its history, culture, and use in the kitchen and bakery and for her lively story-telling. Green also leads culinary tours. Green's books have garnered high praise from critics, readers, and culinary professionals alike, including a James Beard award for "Best Single-Subject Cookbook" in 2001 for Ceviche!: Seafood, Salads, and Cocktails with a Latino Twist (Running Press, 2001), which she co-authored with Chef Guillermo Pernot. For more information about Aliza's books and tours or to send her a message, visit her website at www.alizagreen.com.
Steve Legato is a freelance photographer specializing in food, restaurant industry, cookbooks and advertising. His work has been featured in Art Culinaire, The New York Times, Food and Wine, Wine Spectator, Food Arts, GQ, Departures, Wine & Spirits, Travel & Leisure, Philadelphia Magazine, Delaware Today, New Jersey Monthly and Main Line Today. He resides just outside of Philadelphia, PA. Visit his website at http://www.stevelegato.com.