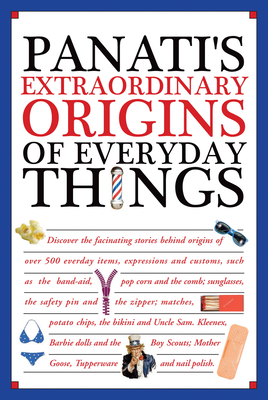 Panati's Extraordinary Origins of Everyday Things (Hardcover)
Chartwell Books, 9780785834373, 480pp.
Publication Date: August 15, 2016
* Individual store prices may vary.
Description
For lovers of facts, students of popular culture, history buffs, and science enthusiasts, the foremost specialist on everything tells how and why hundreds of the everyday items, expressions, and customs we take for granted came into existence. Learn the fascinating discovery stories behind over 500 phenomena, including:
-How chewing gum and Silly Putty began as substitutes for rubber.
-How the potato chip emerged from an act of pique on the part of an Indian named Crum.
-How a socialite invented the dishwasher because servants too frequently broke her expensive china.
-Why April Fool's Day started out as New Year's Eve, a joke in itself.
-How the song 'Happy Birthday to You' began as a kindergarten jingle titled 'Good Morning to All.'
-How the zipper was one man's attempt to make obsolete, not buttons... but shoelaces.
-How the newlywed husband came to the aid of his accident-prone bride with the invention of the Band-Aid.
-How the hot dog began as an outlawed Roman sausage and received its name at a New York baseball game.
-How a pot-and-pan salesman who baited customers with soapy steel wool pads launched the S.O.S empire.
-How Drs. Fallopius and Condom made strides in inventing and popularizing a male means of birth control.
-How the original Goldilocks was a disgruntled, gray-haired crone, tortured by the three bears.
About the Author
Charles Panati is an industrial physicist, former college professor, and for many years was the science editor of Newsweek. He's published 13 non-fiction books exploring the 'origins' of things, and two novels. His Browser's Book of Beginnings was the basis for the TV show The Start of Something Big, hosted by comedian Steve Allen, and written by Panati.