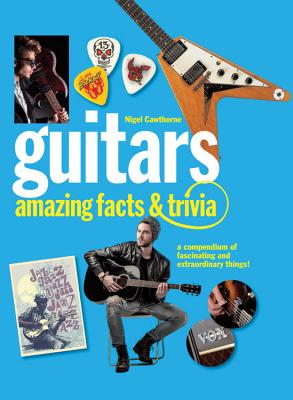 Guitars (Paperback)
Amazing Facts and Trivia
Chartwell Books, 9780785834809, 192pp.
Publication Date: September 15, 2016
* Individual store prices may vary.
Description
For guitar fans everywhere, this lavishly illustrated book is packed with intriguing facts, anecdotes, quotes, lists, history, and just plain bizarre stuff.
Enter the world of the early blue guitarists, jazz greats, and iconic rock heroes.

Be amazed at the prices reached by the great guitars of the twentieth-century rock era.
Discover the earliest guitars, and learn about the lives of those who played them.
Check out listings of the best solos, albums, guitar players, and more.
Wonder at the weird or just plain funny facts and trivia that will wow guitarists and guitar fans alike.
This book is an instant introduction to the history and world of fascinating anecdotes related to the instrument, reflecting the fun it is to listen to, study, and play. Somewhere within us all - even if it is only with an air guitar in front of the bedroom mirror - there lurks a guitar hero trying to get out.
About the Author
Nigel Cawthorne is the author of over a 160 books, from serious political works such as The Iron Cage to lightweight comic romps such as Sex Lives of the Popes. He's well versed in all forms of facts and trivia of the historical, musical, and pop-culture variety, so there is plenty for everyone to enjoy.