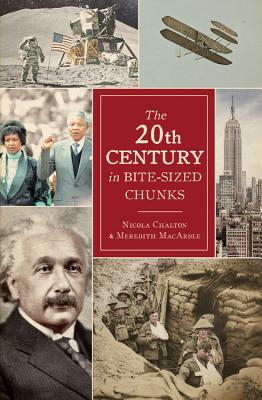 20th Century in Bite-Sized Chunks (Hardcover)
Chartwell Books, 9780785835103, 225pp.
Publication Date: March 15, 2017
* Individual store prices may vary.
Description
From the fall of empires to the Digital revolution, 20th Century in Bite-Sized Chunks views the full spectrum of world history in the last century.

From two World Wars to astonishing scientific progress and social upheaval, the twentieth century saw unprecedented change on a global scale. In this concise history of a century like no other, authors Nicola Chalton and Meredith MacArdle guide us through a hundred years that transformed the way we live.
Covering everything from the fall of empire to the Digital Revolution, this is a chance to take a step back and understand the full breadth of world history in the last century, and to discover how it shaped the modern world we know today.
With information broken down into easily digestible chunks, this is the perfect way to brush up on your world history and discover just how the world as we know it came to be.
About the Author
Nicola Chalton has written and contributed to several non-fiction books, including a series on the history of science and philosophy (Philosophers: They Changed the World  and Scientists: They Changed the World).  She writes historical and biographical features, runs a small publishing business in North Yorkshire and is currently writing a book about Victorian Whitby.
Meredith MacArdle is a writer and editor living in London.  She wrote the timechart sections of the Ponderables series of books on science: The Elements, The Universe, Physics and  Mathmatics, and is the author of The Timeline History of China and The Timeline History of the Middle Ages amoung other books.
or
Not Currently Available for Direct Purchase