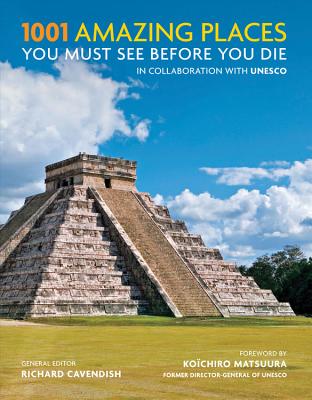 1001 Amazing Places You Must See Before You Die (Paperback)
Chartwell Books, 9780785835141, 960pp.
Publication Date: March 15, 2017
* Individual store prices may vary.
Description
Looking for a vacation destination? History reference? Beautiful visuals to get lost in? 1001 Amazing Places to See Before You Die has you covered on every front.

Both casual travelers and dedicated history buffs will relish this visitor's guide to palaces, cathedrals, temples, battlefields, homes of great artists and statesmen--places and monuments that bear witness to thousands of years of human history. Packed with vivid color photos and detailed textual entries 1001 Amazing Places You Must See Before You Die carries its readers off to places that include:
 
Prehistoric Sites: Stonehenge, England; the Lescaux Cave Paintings, France, and others.
Battlefields: Waterloo, Belgium; Gettysburg, U.S.A.; Hastings, England; Ypres, Belgium, and others.
Buildings and Monuments: St. Basil's Cathedral, Moscow; Nishi Hogan-Ji (Buddhist temple), Kyoto, Japan; St. Paul's Cathedral, London; the Eiffel Tower, Paris; the Empire State Building, New York City; the Ponte Vecchio, Florence, Italy; the Wailing Wall, Jerusalem; the Pyramids, Egypt; and many others.
Homes of the Famous and Infamous: Mozart's Birthplace, Salzburg, Austria; Shakespeare's birthplace, Stratford-upon-Avon, England; Jane Austen's home, Chawton, England; Hitler's retreat at Berchtesgaden, near Munich, Germany; and many others.
Published in collaboration with the United Nations Educational, Scientific, and Cultural Organization (UNESCO), this book upholds their mission to pass on information about the legacy of our past to future generations. 1001 Amazing Places You Must See Before You Die makes a great book for browsing, an idea-packed source for vacation planning, a handy reference volume for students of history, and a sheer pleasure for the general reader.
About the Author
Richard Cavendish is a historian and an authority on Britain's historic heritage. He is the author of A Guidebook to Prehistoric England, writes a regular monthly column in History Today magazine, and has just completed a book on the kings and queens of Britain. He has planned, contributed to, and edited numerous reference works, including books about great events of the twentieth century and wonders of the world. He has lectured and broadcast in Britain, the United States, Denmark, Canada, and Australia. 
or
Not Currently Available for Direct Purchase