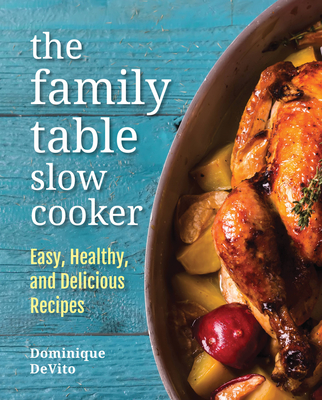 The Family Table Slow Cooker (Hardcover)
Easy, healthy and delicious recipes for every day
Chartwell Books, 9780785835288, 224pp.
Publication Date: March 6, 2018
* Individual store prices may vary.
Description
The Slow Cooker is now middle aged! Invented in 1950, the Slow Cooker has been popular in the early 1970s. The miracle appliance was the perfect compliment to the busy modern life style, but considered a backwater to the world of fine food. That all changes now!
 
Veteran bestselling cookbook author Dominique DeVito introduces a whole new take on great slow foods! DeVito catalogs recipes covering breakfast, snacks, and dinner, and appeals to all sorts of ethnic traditions. She features fresh farm-to-table ingredients, and highlights ribs, roasts, chicken, pork, and beef, whiles also offering a wide range of International flavors, including French, Italian, Caribbean, Mexican, and other ethnic dishes, as well as new healthy takes on such staples as four-cheese mac and cheese, six bean chili, old fashion Boston baked beans, classic stews and amazing spicy jerk dishes. Detailed instructions smooth the way for cooks new to this time-tested cookware.
About the Author
Dominique DeVito grew up on a farm in Chester Springs, Pennsylvania, and attended Mount Holyoke College and the University of Pennsylvania.  She published numerous bestselling animal care series with multiple publishers including Idiot's Guides, For Dummies, and Animal Planet, and is the author of The World Atlas of Dog Breeds and Beekeeping: A Primer. She co-founded the highly acclaimed Hudson-Chatham Winery in early 2006. Dominique has appeared in USA Today, Martha Stewart Living, and on The Food Network multiple times. She has published such kitchen favorites as Country Living 500 Kitchen Ideas, Cast Iron Skillet Cookbook, The Cast Iron Baking Book, Christmas Slow Cooking, Paleo Slow Cooking, and the up-coming Cast Iron Pies Cookbook and Cast Iron Dump Cakes Cookbook.