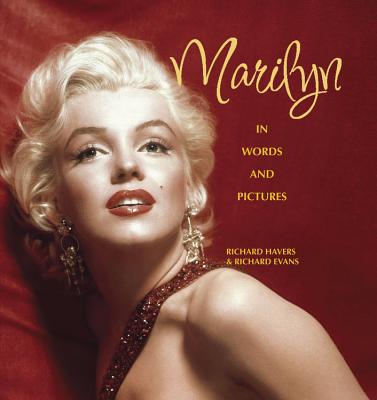 Marilyn (Hardcover)
In Words and Pictures
Chartwell Books, 9780785835356, 192pp.
Publication Date: May 1, 2017
* Individual store prices may vary.
Description
Marilyn Monroe continues to be an identifiable cultural figure over 50 years after her death. Marilyn is a photographic history of her career, from Norma Jeane to stardom.

Marilyn Monroe always felt like she lived her life on the outside. She was never fully accepted by Hollywood, and across three marriages, she never managed to find what she was looking for in a man. And since her untimely death in 1962, there have been countless conspiracy theories which have overshadowed her talent as an actress.

This exquisitely designed, photographic history of Marilyn's life is filled with some of her greatest portraits, most famous shots, candid pictures, and images rarely circulated. In Marilyn, you will see this cultural icon's life and history as she went from "poor little orphan girl" to a worldwide celebrity. Required reading for any fan of modeling and classic Hollywood, this is the story of how Norma Jeane became Marilyn Monroe in a way you've never seen before.
About the Author
Richard Havers spent twenty years working in the airline industry before deciding to pursue his passion for writing. His books include Bill Wyman's Blues Odyssey, Rolling with the Stones, co-written with Bill Wyman; Sinatra, an illustrated biography of Frank Sinatra. He has co-authored My Take, Gary Barlow's autobiography & The Brooklyn Boy, Tony Visconti's.
Richard Evans has been a designer for nearly 40 years. For 33 of those he has been art director for The Who, designing anything and everything for them from album covers to singles, books, posters, DVDs, t-shirts and tour books – his first job for them being a nude photograph of Keith Moon for a tour programme. Talk about a baptism by fire! He has designed album covers for a wide variety of bands, artistes and musical genres, including Pink Floyd, Paul McCartney, Led Zeppelin, Van Morrison, The Doors, The Beach Boys, Pete Townshend, Robert Plant, The Kinks, and Bill Wyman. Richard began his career in the 1970s as a designer at Hipgnosis, the leading British design group responsible for creating cover art for rock musicians and bands, most notably Pink Floyd, Wishbone Ash, UFO, 10cc, Bad Company, Led Zeppelin, The Alan Parsons Project and Genesis. In recent years his work has expanded to include designing  books, notably Rolling With The Stones by Bill Wyman, Bill Wyman's Blues Odyssey, Woodstock Chronicles, and Blues and Jazz: the Golden Era. His knowledge and experience of graphic design for the music industry has been honed and fine-tuned over years of working with many of the greatest recording artists of the day – and he captured this in his Art of the Album Cover.