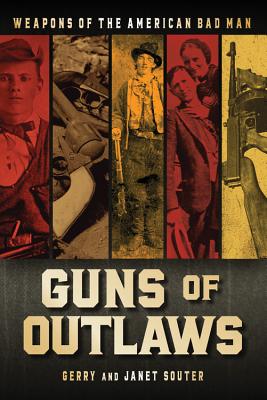 Guns of Outlaws (Hardcover)
Weapons of the American Bad Man
Crestline Books, 9780785835479, 272pp.
Publication Date: December 5, 2017
Other Editions of This Title:
Hardcover (11/15/2014)
* Individual store prices may vary.
Description
From colonial-era rifles carried on the "Owlhoot Trail", to John Dillinger's Colt pistols, the history of the American outlaw is told in guns--weapons that became each man's personal signature.

Guns of Outlaws peer into these criminals' choices of derringers, revolvers, shotguns, rifles, machine guns, and curious hybrids, giving you a glimpse into the minds behind the trigger fingers. With over 200 illustrations, you'll get a unique look at the lives and the hardware of the most infamous outlaws in American history, and of the law enforcement officers who hunted them.
About the Author
Gerry Souter attended the Art Institute of Chicago and the University of Chicago. He has worked as an art teacher, photographer, a security guard, a rifle instructor, and a seaman in the Merchant Marine. He and his wife, Janet Souter, have authored or coauthored more than forty nonfiction books in the areas of history, biography, young adult, art, military history, business, and the Internet. They live near Chicago.Gerry's personal Facebook page: https://www.facebook.com/gerry.souter (51 friends)Joint website: http://www.avril1.comLinkedIn: http://www.linkedin.com/in/gerrysouter (60 connections) Janet Souter, has authored or coauthored more than forty nonfiction books in the areas of history, biography, young adult, art, military history, business, and the Internet. They live near Chicago.Gerry's personal Facebook page: https://www.facebook.com/gerry.souter (51 friends)Joint website: http://www.avril1.comLinkedIn: http://www.linkedin.com/in/gerrysouter (60 connections)
Praise For Guns of Outlaws: Weapons of the American Bad Man…
"Historians Gerry and Janet Souter take the reader back to a time between 1840 and 1940 when men and women traveled an imaginary twisting outlaw path, the "Owlhoot Trail," where outlaws and man hunters lived bold and died hard. In their new book, Guns of Outlaws - Weapons of the American Bad Man, the pages show actual tools of the trade wielded during a violent century, bound up in a mix of hard truths and mythology. The only solid reality left behind are these trusted relics, aged and showing holster wear with salt-etched pits from sweaty gun powder-stained hands." - Ammoland.com
"Guns of Outlaws chronicles the misdeeds of many of America's worst miscreants, with special emphasis on the tools of the outlaw trade. After reading Guns of Outlaws, I was left with one main takeaway. Regardless of the era, evildoers always have, and always will, find a way to get their hands on the most potent weapons of the day to carry out their dirty deeds. And regardless of the era, only equally well armed good guys can take them down." - American Rifleman