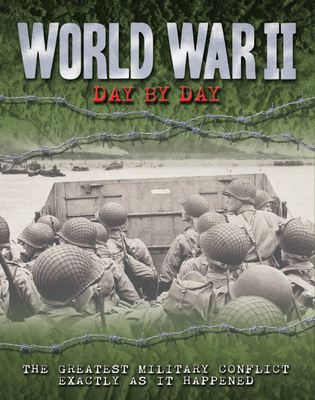 World War II Day by Day (Hardcover)
The Greatest Military Conflict Exactly as it Happened
Chartwell Books, 9780785835660, 192pp.
Publication Date: September 5, 2017
Other Editions of This Title:
Hardcover (7/31/2010)
* Individual store prices may vary.
Description
World War II Day by Day is a chronological history of the second Great War, from September 1939 to the surrender of Japan on September 2, 1945.

World War II Day by Day is a chronological history of the second World War from the beginning of the Nazi's campaign in Poland in September 1939 to the surrender of Japan in Tokyo Bay on September 2, 1945. All major war theaters are covered, as is the fighting in the air and the sea. The dated entries, written as though they have just happened, recapture the immediacy of the war as they analyze the major battles and campaigns, including Stalingrad, Kursk, Midway, D-Day, Iwo Jima, Okinawa and Berlin.

Longer features on various aspects of the conflict accompany each entry. You will see the war's decisive weapons, strategic decisions, and policies. There are also biographical entries on the individuals who shaped and prosecuted the war in both Europe and the Pacific theaters: leaders such as Chamberlain, Stalin, Zhukov, MacArthur, Hitler, Manstein, and Eisenhower.

The hardcover reference titles in the Day by Day series examine the evolution of wars in a chronological timeline, from the first skirmishes to the final battles. The fate of soldiers, battalions, armies, can change in the blink of an eye—with these comprehensive books, you can follow the conflicting sides in their strategy, weaponry, and policies.
About the Author
Anthony Shaw holds a degree in War Studies from King's College, University of London, and has written or contributed to a number of books on military and historical subjects. An Associate Member of the Irish Guards, he has written a number of articles on this world-famous unit. Shaw is the co-author of Ireland-History, Culture, People and The Illustrated Guide to World History, and edited The American Indian and the widely praised Encyclopedia of North American History. Mr. Shaw currently lives in London, England.