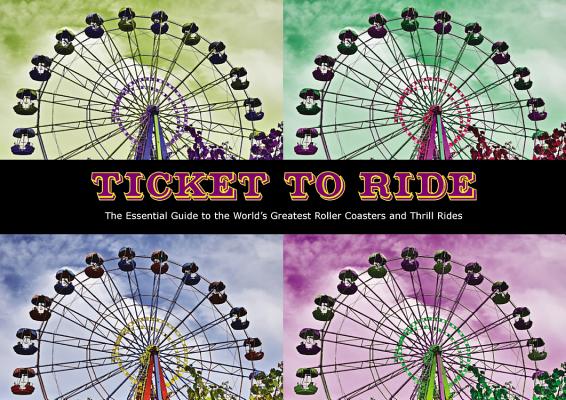 Ticket To Ride (Hardcover)
The Essential Guide to the World's Greatest Roller Coasters and Thrill Rides
Chartwell Books, 9780785835776, 208pp.
Publication Date: July 16, 2019
* Individual store prices may vary.
Description
Ticket To Ride takes you through the history of roller coasters, from the first in seventeenth century St. Petersburg to today's gigantic theme park attractions—complete with a tour of the most hair-raising and fantastic examples.
 
The adrenaline rush of a roller coaster ride provides its fans with a leg-wobbling wave of euphoria and exhilaration unmatched by any other experience. It takes a certain amount of courage—or foolhardiness—to climb onto a roller coaster, but what a ride. Fans travel the world to experience the latest and most gut-wrenching rides, and they have quite a selection to choose from.
 
Exactly who built the very first roller coasters is contentious, but they are generally agreed to have appeared in seventeenth century St. Petersburg, where they were made of ice and wood—accordingly nicknamed "Russian Mountains." Now a staple of amusement parks and theme parks, the first patented roller coaster appeared in the first real theme park, at famed Coney Island in 1884. It was created by "Father of the Gravity Ride" LaMarcus Adna Thompson, an American inventor and amusement park pioneer. His "scenic railways" were a sensation, so much so that he opened six at Coney Island alone. The first golden age of the roller coaster ended with the Great Depression in tandem with the decline of amusement parks in general.

A roller coaster revival did not begin until 1972, with the construction of The Racer at Kings Island, Ohio. This started the second golden age of the roller coaster and led, in turn, to the construction of rides like Rebel Yell (at Kings Dominion, Virginia) and Thunder Road (at Carowinds, North and South Carolina). In 1959, the first steel track roller coaster, called Matterhorn Bobsleds, appeared at Disneyland, California, leading the way with innovative loops and corkscrews.
 
Aficionados have their favorites; some prefer steel roller coasters for their smoother ride and ability to turn their passengers upside-down as they fly around the tracks. Conversely, others prefer the more old-fashioned wooden roller coasters that rattle along and play with negative G-forces to provide "air time" for their passengers. Today, there are numerous types of roller coasters, which broadly divide into train-type coasters, mechanical coasters, and track layout coasters.

Some of the favorites featured in this book include: Jurassic Park, Animal Kingdom theme park, Superman the Ride (Bizarro), Superman: Escape from Krypton, Batman The Ride, El Toro, Loop The Loop, Transformers: The Ride, Jack Rabbit, Th13teen, Saw: The Ride, London Eye, Back at the Barnyard Hayride, Great American Scream Machine, Revenge of the Mummy: The Ride, Apollo's Chariot, Apocalypse, Big Dipper Roller Coaster, Boomerang Coaster, Dragon, Cyclone, Medusa,Thunderbolt, The Sea Dragon, Alpine Bobsled, Rattlesnake, Shockwave, Full Throttle, Goliath, Joker 4-D coasters, Phantom's Revenge, The Big One, The Ultimate,Centrifugal Railways, Oblivion, Klondike Gold Mine, Dreamland park, and more. 

Ticket To Ride looks at the development of roller coasters and how they have evolved into the biggest theme park attractions in the world, taking you on a tour of the greatest, most spectacular examples.
About the Author
Dr. Patrick Hook is a scientist and historian whose works embrace such diverse subjects as motorcycles, natural history, and military history, including recent titles on the 9th SS-Panzer Division Hohenstaufen and a monograph on air rifles.