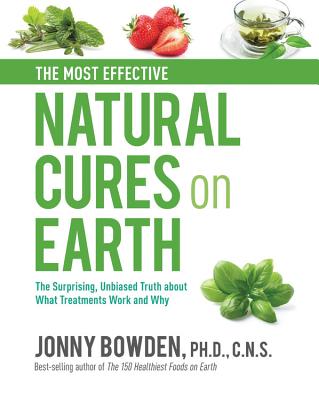 The Most Effective Natural Cures on Earth (Hardcover)
The Surprising Unbiased Truth About What Treatments Work and Why
Crestline Books, 9780785835899, 360pp.
Publication Date: June 12, 2018
Other Editions of This Title:
Paperback (1/1/2008)
Paperback (8/1/2011)
Paperback (7/1/2010)
* Individual store prices may vary.
Description
Acclaimed nutritionist and best-selling author Jonny Bowden, Ph. D., C.N.S., identifies and explains the best in alternative medicine today using extensive research, wide-ranging expertise in nutrition and health, and advice from a myriad of health experts.  Jonny empower you to take charge of your health by showing which alternative treatments work, how to use them effectively, and in what dosages.  He tells you which foods, vitamins, minerals, herbs, amino acids, and natural treatments, such as exercise and relaxation therapies, will treat your conditions. 

This book details the most effective combinations of different "cures," plus Jonny picks the top six treatments that he'd take with him if stranded on a desert island.  His treatments address more than seventy-five specific health concerns, including cancer, high cholesterol, eczema, hypertension, PMS, stress, menopause, diabetes, autism, depression, and high blood pressure.
About the Author
Jonny Bowden, Ph.D., C.N.S., a board-certified nutritionist with a master's degree in psychology, is a nationally known expert on nutrition, weight loss, and health. He is the author of several best-selling titles, including The 150 Healthiest Foods on Earth, The Most Effective Ways to Live Longer, and The 150 Most Effective Ways to Boost Your Energy. He is the nutrition editor for Pilates Style, a contributing editor for Clean Eating, and a columnist for Better Nutrition. His work has been featured in dozens of national publications (print and online) including The New York Times, Forbes, Time, Oxygen, Marie Claire, Diabetes Focus, US Weekly, Cosmopolitan, Family Circle, Self, Fitness, Allure, Essence, Men's Health, Weight Watchers, Prevention, Woman's World, Fitness, Natural Health, and Shape. He lives in Woodland Hills, CA. Visit www.jonnybowden.com.