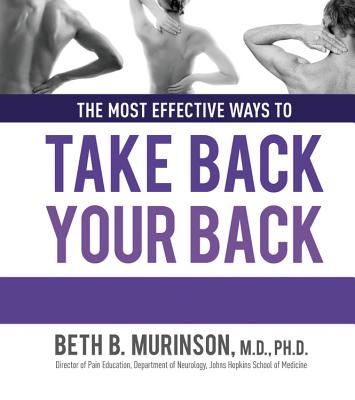 The Most Effective Ways to Take Back Your Back (Hardcover)
Crestline Books, 9780785835905, 272pp.
Publication Date: June 5, 2018
* Individual store prices may vary.
Description
Although back pain is common, the fix isn't. The Most Effective Ways to Take Back Your Back shows you how to diagnose and manage your particular back pain and alerts you to red flags and often-misdiagnosed issues that may worsen your condition.

—Do you have non-radiating pain on one side of the spine? Your issue may be Muscle Injury, and you need to control inflammation.
—Does your pain shoot down the leg? You may have a Slipped Disc that requires physical therapy and possibly surgery.
—Does your pain worsen with sitting and ease off with walking? You may have Sciatic Nerve Compression and need special stretching exercises.

Leading back pain expert Beth Murinson, M.D., director of pain education at Johns Hopkins School of Medicine, brings together the latest science on back pain diagnosis and treatment from medications and surgical procedures to traditional physical therapy to alternative modalities such as acupuncture, meditation, and water and inversion therapies that are showing promise.

For each condition and procedure, you'll learn what to expect in the hospital or the doctor's office, what self-therapy solutions you can do on your own, and when to seek out intervention. Detailed illustrations and easy-to-understand descriptions help you select the best treatment options to improve your unique type of back pain and live a back-healthy life.
About the Author
Dr. Beth Murinson is one of the top pain specialists in the country. She completed a residency in neurology at Yale University followed by fellowships in Clinical Neurophysiology and Peripheral Neurology at Johns Hopkins. Now an Assistant Professor of Neurology at Johns Hopkins, Dr. Murinson directs Pain Education for the department of Neurology. Her clinical expertise is in painful conditions of the peripheral nervous system including peripheral neuropathy, neuropathic pain, and stiff-person syndrome.