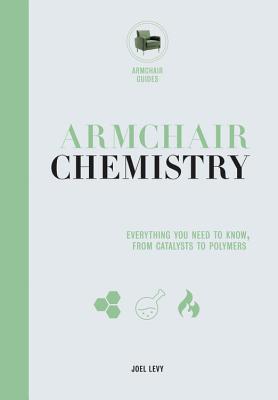 Armchair Chemistry (Hardcover)
From Molecules to Elements: The Chemistry of Everyday Life (Armchair Series)
Chartwell Books, 9780785835967, 176pp.
Publication Date: February 13, 2018
* Individual store prices may vary.
Description
Part of the Armchair series, Armchair Chemistry is a quick refresher course in how we survey of the science.  It explains how we evolved from believing in alchemy to discovering modern chemical equations and goes into detail about the lives of the scientists that uncovered them.

Fascinating and interactive, this is ideal for the student brushing up on a subject or for as a clear and accessible companion for beginner's and experts alike.  It contains explanations of different chemical concepts, as well as profiles of key scientists and and their discoveries.  It contains clear and concise explanations of different chemical concepts, as well as profiles of key scientists and their discoveries. A unique feature of the book is its simple, step-by-step exercises. Some of these have everyday applications, others are theoretical puzzles, but all are designed to challenge you and test your newly acquired knowledge.

The perfect companion for beginners and experts alike, Armchair Chemistry does not assume prior knowledge of the subject. It conveys the basic elements of chemistry in a way that is clear and accessible, no matter your level of ability.
About the Author
David Bradley is a member of the Association of British Science Writers, the US National Association of Science Writers, and a Chartered Chemist member of the Royal Society of Chemistry. A former Daily Telegraph Science Writer of the Year, he has covered a wide range of subjects for many popular magazines, technical publications, websites, and elsewhere, including American Scientist, The Guardian, Nature, New Scientist, and Popular Science.
JOEL LEVY is a writer and journalist specialising in history and science. He is the author of more than a dozen books, including Newton's Notebook, Great Scientists, Mad Science (revealing the secret histories of madness, magic, and mysticism among great inventors and scientists), The Doomsday Book (a guide to scenarios for the end of civilisation), History's Lost Treasures, and the forthcoming History's Worst Battles. He has also written features and articles for the national press, and has appeared on national television and numerous local and national radio shows. A long-term student of the history of science and medicine, Joel has a BSc in Biological Sciences and an MA in Psychology.