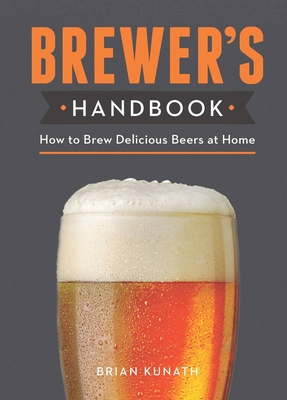 The Brewer's Handbook (Hardcover)
How to Brew Delicious Beers at Home
Chartwell Books, 9780785836605, 224pp.
Publication Date: October 9, 2018
* Individual store prices may vary.
Description
Learn how to buy, build, and use all of the equipment involved in homebrewing with a minimum of hassle and expense with The Brewer's Handbook.

When brewing was discovered more than 8,000 years ago, it was hailed as a gift from the gods. Today, beer is enjoyed all over the world, available in infinite styles—yet brewing is still seen as a mysterious process. In reality, everyone can create unique beers in their own home, and this comprehensive, step-by-step guide will show you how.

Following the magic rules to success is easy and handy worksheets help you monitor and record the details of each batch—leading you to triumph, time after time. In this book, you'll learn how to craft the following beverages:
Maiden's Dream Ale
Belgian Wit Ale
Aloha Pale Ale
Scottish Ale
Dry Stout
Porter
Bohemian Pilsner
California Common
Raspberry Amber
 
The Brewer's Handbook takes you from preparation and storing to conditioning and bottling, clearly outlining each factor in the process and giving an overview of fermentation. As you become more adventurous, discover how to vary techniques and  ingredients to produce unbeatable beers. As well as recipes for ales, lagers, and unique brews, you even get tips on how to savor your creation. There's advice on glassware, setting up a "home bar," and even the perfect food/home-brew combinations. 
 
From Belgium to the U.S., from brown ale to weizenbock, the country-by-country guide to world beer styles is both practical and fascinating. There's also a first-hand account of processes inside a professional brewery.

The Brewer's Handbook is your hops to bottle guide on homebrewing.
About the Author
Brian Kunath has been brewing his own beer since 1990. He is a member of the American Homebrewer's Association and has attended numerous lectures and microbrewing conventions. He has written on a wide range of subjects for such publications as The Sporting Times and the nationally recognized online publication, CitySearch.com. When he is not writing about beer, the self-confessed lupomaniac can be found in his garage "brewhouse" hovering over his kettle with a handful of hops muttering, "just a little more." He lives in Raleigh, North Carolina.